Spitsbergen
Gane and Marshall provide dog sledding, Arctic expeditions, and Polar cruise holidays in and around Spitsbergen and the Svalbard archipelago. We also offer trekking on foot in summer and full Arctic expeditions onto the ice.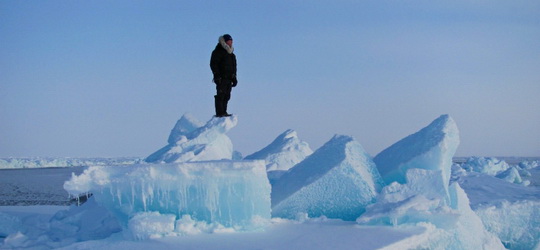 Spitsbergen
Spitsbergen is the largest island in the Svalbard archipelago, Norway. Located 78 degrees north, it borders the Arctic Ocean and the Norwegian and Greenland Seas, and is the gateway to the North Pole.
Longyearbyen, where most of our Arctic tours begin, is the largest settlement and de facto capital of Svalbard. Previously a centre for whaling, trapping and mining, today Longyearbyen is mostly used for scientific research, but it has a growing tourism and adventure industry. It is located on the western coast of Spitsbergen, and offers good hotels, guesthouses and restaurants, as well as access to an array of activities.
Arctic Adventure
We offer a number of exciting expeditions out of Longyearbyen, the principal town of Svalbard, including dog sledding and snow-mobile tours, extended cruises through the Svalbard archipelago, and short coastal cruises (see our Arctic Cruise pages for more). We also offer trekking on foot in summer, and can help arrange ski and sledge expeditions on the snowfields and glaciated valleys. In the winter there are options for Polar night safaris, ice cave visits and excursions on the powerful 'snowcat', which carries up to 15 passengers across the snowfields. You'll be amazed at what's possible in the region!
Whatever your interests, we can organise a programme of activities to make up an adventurous and interesting short break. We have plenty of experience in handling large and small groups to Svalbard, as well as individuals.
Polar Expeditions
Our Into the Arctic mini-expeditions give you the chance to spend two days on the ice during the late Arctic winter. You'll have to sledge haul your equipment and set up camp in tough polar conditions - the tour is intended to be a precursor to one of our North Pole expeditions, but it also serves as a great standalone adventure. We will usually build into the programme a number of activities, such as dog sledding and snow-mobiling, similar to our standard Arctic adventures. The tour can be planned as a short-haul weekend adventure or as a longer expedition.
We offer fully-supported North Pole ski-in expeditions - for private and corporate groups. See our Polar Expedition pages for more info. Gane and Marshall is the appointed tour operator for the headnorth North Pole challenge.
Svalbard Wildlife Holidays
Spitsbergen should be of keen interest to any wildlife enthusiast. The archipelago is home to several endemic species, such as Arctic fox, southern vole and Svalbard reindeer, as well as a plethora of marine mammals, including seal, dolphin, whale and walrus. And let's not forget the king of the Arctic, the Polar bear. Cruises provide the best opportunities for wildlife-viewing, but there are great opportunities to be had on land as well, particularly during the summer, when more of Spitsbergen is accessible on foot.
Keen twitchers should know that Svalbard is a breeding ground for several species of seabird, and also attracts a variety of migratory species, many of them on the IUCN Red List. In the late summer, the Barents Sea alone accommodates as many as twenty million individual sea birds, among them auk, fulmar, kittiwake and thick-billed murre.
Besides being rich in wildlife, Svalbard offers stunning scenery. Landscape photographers will find endless inspiration in its glaciers, mountains and fjords. The Arctic climate, with its extreme seasonal variations - bleak, dark winters give way to the midnight sun of late spring and summer - presents photographers with both challenges and exciting opportunities.
Holidays to Spitsbergen and the Arctic Circle with Gane and Marshall
We have a great deal of experience in planning holidays and expeditions to the Arctic region, from fully-supported North Pole expeditions to relaxed cruises. We work with the best ground handlers and cruise operators, and ensure our prices are always competitive. We are also one of the few UK operators to offer fully tailor-made tours of the region, alongside fixed departures. In short, we're well placed to help you plan your Arctic adventure, whatever your interests.
Contact Gane and Marshall to start planning your trip to Spitsbergen and experience the Arctic.
Example itineraries and information for: Spitsbergen
Explore a frozen ice cave, ride a snowmobile, and go mushing with huskies on this classic short break itinerary in arctic Svalbard
Into the Arctic with Alan Chambers
Journey into the Arctic with leading explorer Alan Chambers on this 5-day Polar expedition taking place on the island Spitsbergen, in the Svalbard Archipelago. During your expedition you'll: explore the remote northern outpost of Longyearbyen, camp on a glacier, learn to haul a ice-sled on skis, and go dog sledding and snowmobiling in Templefjorden.
North Spitsbergen Arctic Wildlife Cruise
Sailing along the pack-ice of North Spitsbergen will provide you with wonderful opportunities to spot the King of the Arctic. During this 8 day cruise you will sail to Raudfjord on the north coast of West Spitsbergen, a beautiful fjord dominated by spectacular glaciers and favoured by winged and bearded seal. The cliffs and shoreline of the fjord also support thriving seabird colonies and surprisingly rich vegetation, which flourishes in sheltered spots.
Early Winter in Arctic Spitsbergen
October to mid-November is a unique time to travel in Arctic Spitsbergen, as the seasons change and as the Polar winter closes in. During this time of year, you can still expect a limited amount of light each day, allowing for daytime activities such as winter Fatbiking, walking tours and day cruises within the vicinity of Longyearbyen. As the season progresses, these activities take place against a backdrop of longer nights and the near-constant spectacle of the aurora borealis.