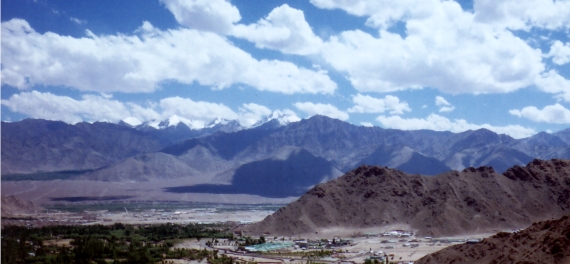 Climb Stok Kangri
Trekking and Climbing on Stok Kangri in Ladakh, India

Stok Kangri (6,137m/20,130ft) is one of the main peaks of the Zanskar range, situated in the region of Ladakh, a high and arid landscape that has captured the imagination of travellers since it first opened to visitors in 1974.
Your Stok Kangri climb programme takes you from Delhi to the Ladakhi town of Leh, where you will have plenty of time to adjust to the high altitude. You will spend several days acclimatising by visiting the colourful monasteries at Shey, Thikse and Hemis, as well as driving along the world's highest motorable road at Khardungla, before setting off on the trek to Stok Kangri.
The expedition approaches Stok Kangri with a wonderful trek through remote valleys, scattered high villages and past hilltop Buddhist monasteries to the base of the mountain. Much of the trek is on the famed Markha Valley Trail (we can extend your programme to include more of the Markha Valley Trail before you go to summit Stok Kangri).
How tough is Stok Kangri?

Stok Kangri provides a challenging, though technically straightforward, climb. You will trek for between 10-15kms per day along low-angle scree and easy snow slopes. It is a perfect follow-on for those who have climbed Kilimanjaro, as it takes you over the 6,000m threshold, and provides an introduction to basic Himalayan climbing techniques, such as the use of crampons and ice axes. Our approach to the mountain allows you to gain altitude steadily and acclimatise to the conditions before summiting Stok Kangri, maximising success rates.
When to climb Stok Kangri?
The main climbing season is during the Ladakh summer months (June-August). Ladakh exeriences extremes in temperature, with often warm summer days, but bitterly cold nights. -30ºC is not unheard of, even in spring. You should ideally attempt to climb Stok Kangri in July or August.
Further details
For further details and prices please see the Stok Kangri climb itineraries and fact files listed below. Get in touch to learn more.
Example itineraries and information for: Climb Stok Kangri
Journey deep into the Indian Himalaya, trekking along the Markha Valley trail before climbing to the summit of Stok Kangri, one of India's most beautiful and fascinating mountains.
Climb rates for Stok Kangri and the Markha Valley trail.