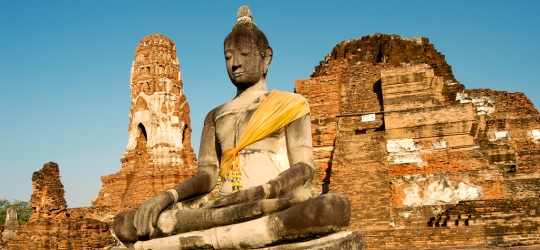 Thailand
Thailand benefits from a wealth of attractions. Enclosed by the Indian Ocean and the South China Sea, the country is most famous for its fabulous coastline and world-class beach resorts, but there is much more to Thailand than sea and sand; step away from the beach and you will discover a country with a long, rich history and a vibrant, modern culture.
Though among the fastest developing countries in East Asia, modern Thailand is also a deeply traditional country, where Buddhism remains a way of life for the vast majority of the people. The familiar icons of Theravada Buddhism—saffron-robed monks, golden Buddha statues, pyramidal pagodas—are visible the country over, from the chaotic streets of Bangkok in the south to the sleepy rural villages of the north.
Thailand's traditions sit easily with, even complement, its modern outlook. In the bustling capital of Bangkok, glitzy shopping malls stand side by side richly-decorated temples. The city's shrines, draped in bright orange garlands, receive a constant flow of worshippers, while the colourful markets crammed with bargains are a shopper's paradise.
Thailand, which was one of the first developing countries to develop a tourist industry, is also home to some of the world's most beautiful and unique hotels, and not just on the coast. Whether you prefer international-standard or stylish boutique hotels, relaxing spa resorts, floating raft houses, village home stays, jungle tree houses or a cruise on a converted rice barge, Thailand offers it all.
THAILAND TRAVEL ADVICE

The best time to visit Thailand is between November and March when the weather is mostly dry

Conversely, the best time to visit Koh Samui, off the east coast, is from June to September

Temperatures are consistently high although it can be a little cooler at night in the north during the dry season

The hottest time of year is March and April, just before the rainy season starts

Thai people have, for the most part, a deep reverence for the monarchy, a dynasty that has kept the country independent for centuries

Thailand is the jumping-off point for visits to Vietnam, Cambodia, Laos and Myanmar
Regions in Thailand
Example itineraries in Thailand
Discover Thailand's rich history, from 13th-century Sukhothai, royal seat of the first Siamese dynasty, through old Ayutthaya, Thailand's great historic capital, to modern-day Bangkok.
Discover Thailand's rich culinary history in this ten-day exploration of the country's food and culture.
Take in the best of Thailand's city sights and beautiful beaches in this ten-day romantic holiday designed for two. This itinerary can be easily tailored to suit honeymooners.