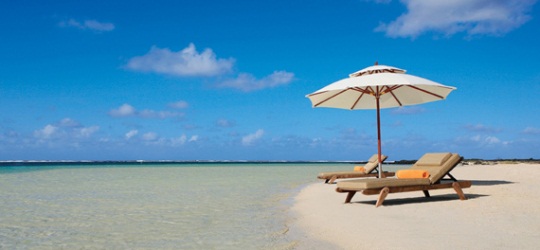 Mauritius
Tailor-made Mauritius holidays with Gane and Marshall.
Mauritius, despite its varied and often stunning interior geography, is an island most famous for its splendid beaches and coral reefs. Adrenaline enthusiasts will find abundant water sports on offer here, while those who prefer leisure can simply take to the beaches and "learn the art of doing nothing and doing it well!"
Mauritius, like its more famous northern neighbour Zanzibar, was an important trading post in the sixteenth-century. The visible influence of French, Indian and Chinese culture gives the island a sophisticated and cosmopolitan feel, and adds to the quality and variety of delicious food on offer, for which Mauritius is justly famous. The ambience and luxury of the resorts make Mauritius the ideal choice for honeymooners and romantic couples alike - the island remains one of Africa's most popular honeymoon and wedding destinations.
Venture into the interior of Mauritius and you will discover small tropical forests, violet moonscaped mountains, rivers, mountain streams, coffee plantations and sugar cane fields. We recommend a visit to the Pamplemousse Gardens, one of the most famous botanical gardens in the world. Here you can find hundred year old trees, royal palms which flower only once every hundred years, giant water lilies and exotic spice plants.
Contact us today to start planning your visit to Mauritius. Our travel team can help you plan a tailor-made Mauritius holiday to match your budget and needs.
MAURITIUS TRAVEL ADVICE
Mauritius is a good year-round destination, though you may choose to avoid the period January-March due to hotter temperatures and higher rainfall.

Mauritius is one of Africa's most popular and affordable beach destinations.

Many of the hotels have great children's clubs making Mauritius an excellent choice for family holidays.

Mauritius is malaria free.

A Mauritius beach holiday makes for a relaxing and refreshing addendum to a safari. There are good connections to Mauritius from East, Central and Southern Africa.