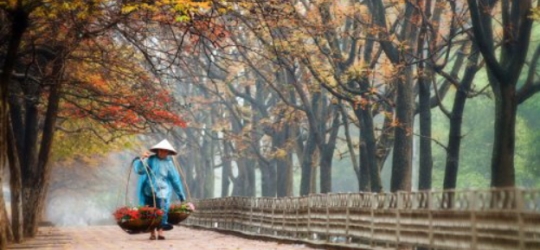 Vietnam
Vietnam is an assault on the senses, a land of patchwork emerald green rice paddies worked by farmers wearing conical hats, remote mountains home to colourful hill tribes, a pristine coastline dominated by palm-fringed sandy beaches, ancient towns that blend traditional and colonial architecture, and buzzing cities where the past meets present in streets crammed with thousands of motorbikes,
Vietnam's two major cities, the capital Hanoi and the commercial centre Ho Chi Minh City (Saigon), are like chalk and cheese. Hanoi is elegant with a conservatism that contrasts starkly with Ho Chi Minh City's brashness. Hue is much more sedate, its imperial history its main attraction, while Hoi An is a place to soak up the atmosphere and browse the shops that line the narrow ancient streets. The pleasant climate and alpine scenery of Dalat in the Central Highlands contrasts with the tropical lowlands below.
In the northwest, overlooked by Mount Fansipan, Sapa is the starting point for journeys to the hill tribe villages which play host to many travellers each year. Cruising through Halong Bay on a traditional junk is not to be missed. At the other end of the country, the best way to enjoy the Mekong Delta is also on a boat, passing through tiny riverside villages whose residents are busy fishing, growing rice and fruit or manufacturing in small, family-run factories.
Parts of the coastline have now been developed and there is no longer any need to travel to Thailand to enjoy a few days on the beach. Those who like to get away from it all can head for the islands of Phu Quoc or Con Dao; the mainland has a combination of small and large resorts, to suit any budget, at Nha Trang, Phan Thiet, Danang and Hoi An.
VIETNAM TRAVEL ADVICE
The north of Vietnam has four seasons with the summer hot and wet, the autumn warm and mainly dry, the winter cooler and occasionally drizzly and the spring increasingly hot and humid. The mountains in the northwest can be very cold in January and February.

The centre of Vietnam experiences heavy rainfall from September to December and unsettled cooler weather from January to March. From April to August it is hot and humid.

The south of Vietnam is tropical, and hot all year round with a rainy season from May to October, when you can expect short but heavy daily downfalls.

The main highlights can be visited in a week, but to get the best out of your trip allow two weeks, or longer if you can.

The evocative Reunification Express travels slowly between Hanoi and Ho Chi Minh City. A popular section is the overnight journey between Hanoi and Hue, taking around 15 hours. The service and accommodation is acceptable in soft class. There are deluxe carriages on certain trains from Hanoi to Lao Cai (for Sapa) and also to Hue and Danang.

Vietnam can easily be combined with Cambodia and Laos as there is a good network of flights as well as boats between the Mekong Delta and Phnom Penh.
Regions in Vietnam
Example itineraries in Vietnam
Comprehensive 15-day itinerary covering North, South and Central Vietnam, visiting the northern and southern capitals of Hanoi and Saigon, the imperial capital Hue, the world heritage town of Hoi An, beautiful Ha Long Bay, the beach at Nha Trang, and the Mekong Delta.
12-day itinerary covering the best of Southern Vietnam, including Saigon, Da Lat and the Mekong Delta.
12-day itinerary taking in the best of northern Vietnam, including Hanoi, Ha Long Bay, Ninh Binh, Cuc Phuong National Park, and Sapa
13-day itinerary to Vietnam's remote Northern Hills, visiting Mai Chau, Son La, Dien Bien Phu, Sapa and ending in Ha Long Bay