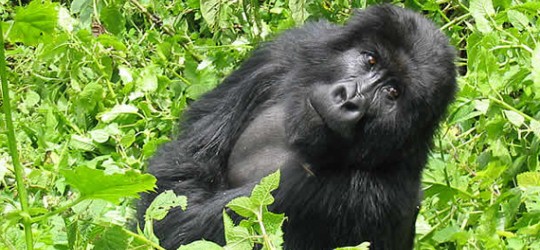 Rwanda
Known as 'the land of a thousand hills', Rwanda is a small country of picturesque and varied landscapes which provide a home for Africa's last remaining mountain gorillas.
In the north of Rwanda, Volcanoes National Park is extraordinarily beautiful and most famous for its brilliant gorilla tracking tours, often the highlight of any Rwanda safari. The park is home to the magnificent Virunga Volcanic Mountains, whose dense high-altitude forests protect about half the world's remaining mountain gorillas.
Traditional safari game-viewing is especially good in Akagera National Park, in eastern Rwanda. Akagera is a mixture of woodland, open grassland and papyrus swamps. It boasts healthy populations of lion, leopard, plains game, hippo, giraffe, elephant, as well as many bird species. While it doesn't rival East Africa's much more famous safari parks, a few nights in Akagera following or preceding a gorilla safari in Volcanoes NP can make for a fantastic safari package.
In southern Rwanda, Nyungwe Forest National Park contains the largest remaining single tract of montane forest in Africa and is home to a phenomenal number of birds and primates, including chimpanzees, the Ruwenzori colobus monkey and the endangered golden monkey.
Lake Kivu, on the other hand, offers quite a contrast to the large National Parks, and can be an excellent finish to any trip around Rwanda; beautiful beaches, jutting peninsulas and an archipelago of islands, busy with traders and local fishermen in their dugout canoes, can be found here. Life around Lake Kivu is lively, and visitors can if they choose get a real feel for Rwandan culture.
Rwanda works well as a standalone safari destination or as an extension to a safari in Kenya or Tanzania (it is only a short flight from Nairobi). Whether you choose to visit Rwanda in isolation or as part of a broader itinerary, we do recommend that you take the time to explore this often-ignored African country. Tourism to Rwanda has dropped since the tragedy of the early 1990s, but visitors will be pleasantly surprised by the spirit of reconciliation which now exists in the country.
Contact us today to take advantage of our many special offers on tailor-made Rwanda safari holidays.
RWANDA TRAVEL ADVICE
Rwanda is a good year round destination and combines well with a safari in Tanzania or Kenya.

Rwanda's dry seasons run from June to September and December to February, and are the best time to visit for gorilla tracking tours. The rainy seasons run from March to early June and October to December.

Bird watching is sensational in Rwanda between November and March.

Gorilla-tracking in Rwanda is possible year-round (subject to the availability of gorilla permits)

Regions in Rwanda
Example itineraries in Rwanda
This comprehensive private tour of Rwanda takes in all the main sights the country has to offer, beginning in Kigali and concluding in the Virunga Mountains, where you have the option to join a gorilla-tracking safari.
Visit the Mountain Gorillas of Rwanda and explore the Parc National des Volcans. This gorilla safari itinerary makes for a great short-break holiday. It is designed for small groups but it can also be arranged as a tailor-made holiday for single or couples, and combines wonderfully with a longer Rwanda or East Africa safari itinerary.