Volcanoes National Park
Rwanda
Back to Rwanda
Volcanoes National Park
Volcanoes National Park is situated in the Virunga Mountains in northwest Rwanda. The Virunga Mountains, among the highest in Africa, are home to the rare mountain gorilla. Gorilla trekking safaris are the park's primary attraction, but the region is also home to a diverse range of wildlife aside from the gorillas, including buffalo, hyena, duika and the rare golden monkey.
Hottest Classroom Special Schools Group
Just a quick note to say thank you for one of the most memorable expeditions I have ever been on.
Featured itineraries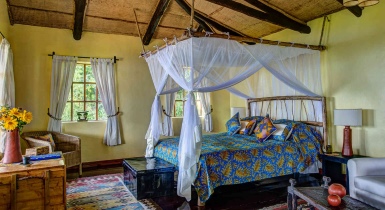 Gorilla Weekend Rwanda
Visit the Mountain Gorillas of Rwanda and explore the Parc National des Volcans. This gorilla safari itinerary makes for a great short-break holiday, and combines wonderfully with a longer Rwanda or East Africa safari itinerary.
Experience
Safari and Wildlife Holidays
Honeymoons and Weddings
Prices from £3389 pp
Read more
Accommodation
Lovely memories of a holiday to Tanzania
Thank you for organising our trip for us - the itinerary was spot on and we had a lovely time together.