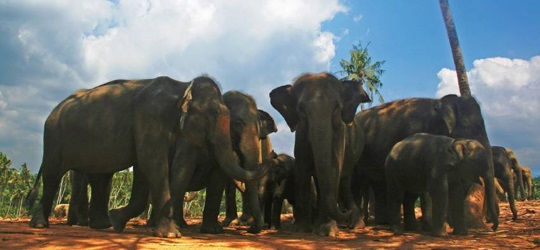 Sri Lanka
Sri Lanka, the "pearl of the Indian Ocean", has seduced travellers for centuries with its balmy beaches, warm climate and its lively, beguiling culture.

The word 'serendipity' was derived from the ancient Arab name for Sri Lanka, Serendib. It's a fitting tribute. If serendipity is the art of making happy discoveries by accident, then Sri Lanka earns its name, for this small and often-overlooked island nation packs a dazzling array of sights and attractions within its modest boundaries.
The first thing that stands out about Sri Lanka is its great natural beauty. Over 800 miles of coastline and golden beaches give way to a hinterland of verdant jungles and misty highlands where the island's famous tea is grown. The most beautiful of these environments are preserved within the country's 15 national parks, which between them protect a diversity of wildlife, including such rarities as leopard, Asian elephant, red slender Loris and toque macaque.
But Sri Lanka is more than its beaches, jungles and wildlife. Amidst all this natural beauty there's much of historical and cultural interest to be discovered. Sri Lanka has a rich and fascinating past, embodied in relics and monuments of which the oldest date back to the 5th-century BC. Indeed, the country houses no fewer than 8 UNESCO World Heritage Sites, including the unique Dambulla Cave Temple and the spectacular Sigiriya Rock Fortress.
Exploring these sights is made easy thanks to Sri Lanka's compact size. You can take in the best of the island's natural and cultural wonders during a single tour of 1-2 weeks. Many of Sri Lanka's most unique sites are located within a comfortable distance of each other. A two hour drive is all that separates the ancient capitals of Anuradhapura and Polonnaruwa, which offer a fascinating insight into the development of Sinhalese culture and architecture, and, together with nearby Sigiriya, form the basis of a tour of Sri Lanka's historical monuments.
Further south, the holy city of Kandy, set on an artificial lake in the island's hilly heartlands, is Sri Lanka's second largest city. It offers a rich colonial heritage to explore as well as a number of fascinating temples, including the famous Sri Dalada Maligawa (the Temple of the Sacred Tooth Relic). Kandy really comes alive during August when the annual Esala Perahera festival takes place. Dancers, acrobats, musicians, fire-breathers and jugglers are just the opening act for a loud and lively procession of more than one hundred elephants decorated in beautiful robes. Book early!
And of course, you won't want to leave Sri Lanka without at least a few nights on one of the island's fabulous beaches. There's no shortage to choose from—Sri Lanka boasts miles of gorgeous coastline. On its west coast, you'll find five-star beach hotels and boutique resorts offering unadulterated sand, sea and surf. To the south, the sleepy coastal port of Galle offers a romantic escape for those travellers who like to mix a bit of sightseeing and culture with their R&R.
SRI LANKA AT A GLANCE
Sri Lanka is famous the world over for its lively, colourful festivals. Consider timing your Sri Lanka holiday to coincide with one of the major celebrations, such as the Buddhist and Hindu festivals of Vesak (May) and Deepavali (November).

Sri Lanka has two monsoons, which affect different sides of the island at different times of year. The "maha" monsoon brings rain and wind to the north-east of the island between November and March, while the "yala" monsoon brings the heaviest rains to the southern coast between April and September.

Peak travel season in Sri Lanka is generally December-April, though there's much to be gained by travelling outside of these months.

Take a train. Sri Lanka's roads are scenic but slow. For longer journeys, rail is less stressful.
Example itineraries in Sri Lanka
Trace the history of Sri Lanka through its ancient and modern capitals on this 10-day historical tour. Discover the origins of Sinhalese culture in ancient Anuradhapura, Polonnaruwa and Sigiriya, before venturing to Kandy, Sri Lanka's colonial-era capital. The tour ends with a visit to the highland town of Nuwara Eliya in Sri Lanka's tea region and a stay in a rainforest eco-lodge.
Experience the best of Sinhalese culture and hospitality on this 11-day guided Sri Lanka tour. Starting at the ancient ruins of Polonnaruwa and ending in the modern-day capital of Colombo, you'll travel the length and breadth of Sri Lanka on a journey through the island's past.
Journey to the North of Sri Lanka
Explore Sri Lanka's 'cultural triangle', including such well known sights as Sigiriya and Polonnaruwa, before venturing north to the old Portuguese port city of Trincomalee and the Tamil capital of Jaffna, which was off limits for so many years. Although tourism is new to this area, the people are welcoming and the culture fascinating. A train journey returning to Colombo completes this 10-day itinerary.