Gane & Marshall
Unforgettable journeys,
tailor-made for you.
Banner image: Elton John Aids Day climb with David Furnish, Johnny Bergius, and Janet Street Porter, led by Jeremy Gane.
Kilimanjaro Open Group Climb
Helen and her brother Rob joined one of our Kilimanjaro open groups, successfully reaching the summit via the Lemosho route. She returned with the following very kind comments about her experience:
Mike was so very helpful and answered all of my questions professionally.
Mussa our guide and his whole team helped to make the trip memorable for all of the right reasons. Their knowledge, care and expertise is second to none and it was a privilege to climb Kilimanjaro with their help and support. Coffee in bed first thing and the ability to wash in warm water was such a treat too.
I am a vegetarian and the care and thought given to my meals was wonderful bearing in mind that we were up a mountain!
The whole trip exceeded my expectations. Tanzania is so green and colourful and Kilimanjaro such a beautiful mountain with the terrain and the vista changing every day.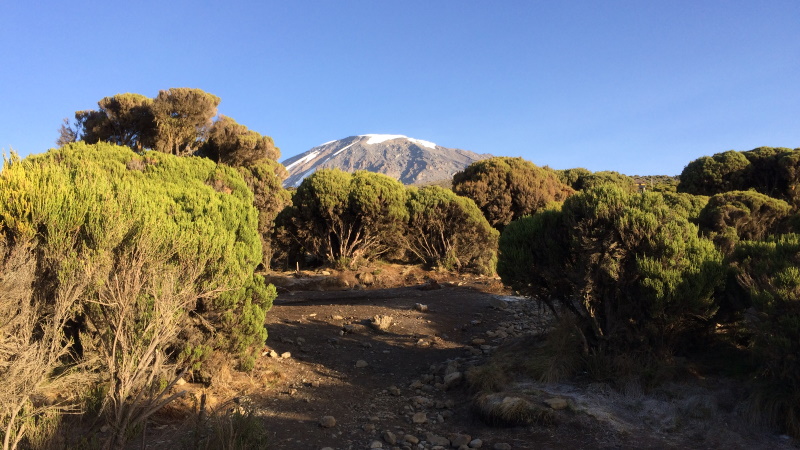 Light Mobile Safari - Tanzania
A rather belated thank you for a great trip.
The camping was really special and we all loved this - even Piero who hates camping.
Edward, Anthony and William were a fantastic team and looked after us really well.
Edward's ability to spot things is phenomenal, and we appreciated the small things such as the mongoose and mice and birds as well as the bigger things. The leopard spotting was especially impressive.
Anthony's cooking was excellent - especially when being carefully watched by the baboons in Serengeti! The fish was wonderful and I still want the recipe for his special peanutty sauce. Swahili night was great too.
William was always there to help and support - we appreciated the overnight fires to keep the creatures away and he was great on the first walking trip and had a huge amount of knowledge.
They all worked well as a team and were great company to be with.
Even the things that didn't go well were very impressive - such as the repairs to the vehicle after our breakdown on that awful road from the crater to Serengeti.
A wonderful trip and one I would heartily recommend to others.
It was good to see Sam again too.
Sarah, Piero, Clare and Jack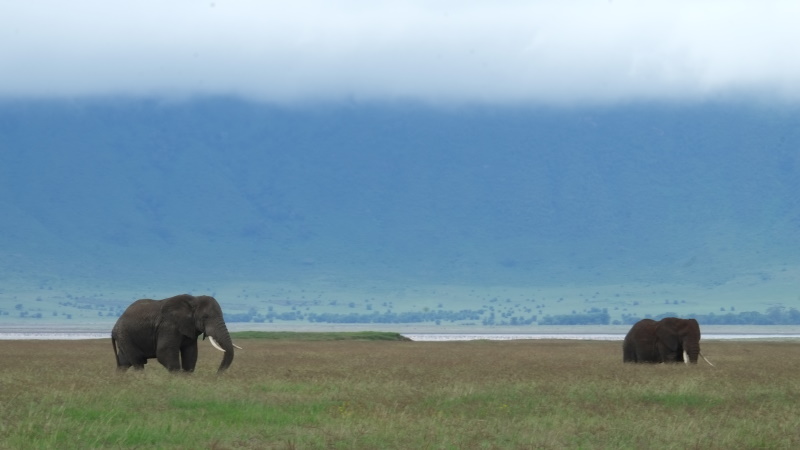 Ruaha, Selous and the Serengeti
Hi Jeremy
We are currently on Zanzibar for three days before making the trek home.
I can't thank you enough for arranging the safaris in Ruaha and Selous - both were superb. I absolutely loved the Ruaha River Lodge, the setting really makes it. Sitting in the evenings looking out on the river with elephants and hippos walking by along with the impala and baboons of course was just amazing. During the first night, an elephant stopped right outside my banda to pull down and eat the palm tree 3 feet from my room - it was a full moon so I could see him quite clearly. Amazing!
Another evening we were all sitting round the fire outside the dining area in the dark when the baboons started making a din and then we could hear the unmistakable sound of leopard padding along towards them on the other side of the river.  I was ready to sprint for cover but I was assured he wasn't interested in us...
Selous was also amazing and great fun with the communal table. A family of elephants were in and out of camp the whole time I was there along with baboons and impala and a hippo grunting his way along near the main tent.
All in all it has been a truly wonderful experience and I have seen so many elephants and lions, birds, antelope including kudu and eland. The guides were amazing in both camps and looked after us brilliantly.
During my adventures, Adrian and his brother successfully climbed Kili despite being 15 years older than the next person in the group. I gather the final day was tough but all in all they returned exhilarated and content.
The subsequent safari to the Serengeti was good but definitely not as brilliant as the southern ones. That being given said we did see many lions, as well as leopard and cheetah. Possibly our most exciting sighting was two young male giraffes fighting, necks swaying and whacking each other. They seemed to stop when about 8 other giraffes appeared over the horizon so may just have been practicing for the future.
So many images going through my head - I will be enjoying this holiday for many more months. Thanks again and expect to hear from me next week from Vancouver.
All the best
Janet
(Note from G&M: Janet also wrote a trip report for her holiday - complete with lots of fabulous images! - which you can view here).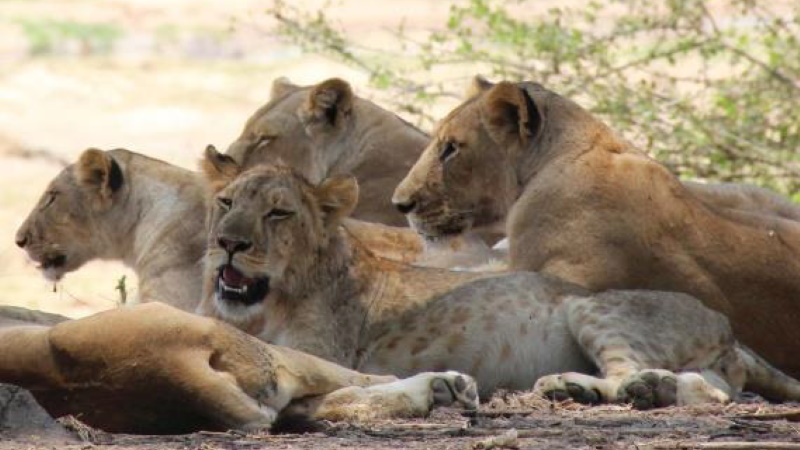 Solo climb of Weismann Peak in the Rwenzori Mountains of Uganda
Annette completed a climb of Weismann Peak in Uganda's Rwenzori Mountains in early 2020. She returned with very positive feedback about the beautiful Rwenzori Mountains and the local climb team who led her to the summit:
I did feel quite strongly about leaving feedback for this trip as it has been such an incredibly special one for me.
From beginning ( yes......yourself and Gane & Marshall! ) to end, the support I received was phenomenal.
The Rwenzoris were a really tough climb. I definitely put it up there with the Western Breach Route up Kilimanjaro in the "toughness" department. Although the Western Breach almost broke me, I definitely had to pull on my "big girl pants" for the Rwenzoris. The major and amazing difference was that I really enjoyed the Rwenzoris. The same can definitely not be said for Kilimanjaro. It was sheer endurance. Not why I like to trek!
I'm fully aware that I didn't do Margherita Peak therefore I wasn't dealing with the same altitude issues and actually I am very pleased I didn't entertain that as I really don't think I would've managed!
I honestly think people should do Mount Kilimanjaro as preparation for the Rwenzoris!
With your invaluable and comprehensive preparation advice ( regarding the route, weather conditions and required kit ) the complete confidence I had in and constant encouragement I received from my climb guides Joseph and Roland....... a really challenging climb was transformed into one I could thoroughly enjoy while still feeling exhilarated. The Rwenzoris are soooooooo incredibly beautiful, they are mind blowing ( but I don't need to tell you that!! ). Wow!
I am already looking at where my next adventure may be. There's nothing like the British weather to spur me into action! It may be Iran....... I shall keep you posted!
Many thanks again Michael to yourself and your team at Gane and Marshall......you have been amazing as always!
Best wishes,
Annette.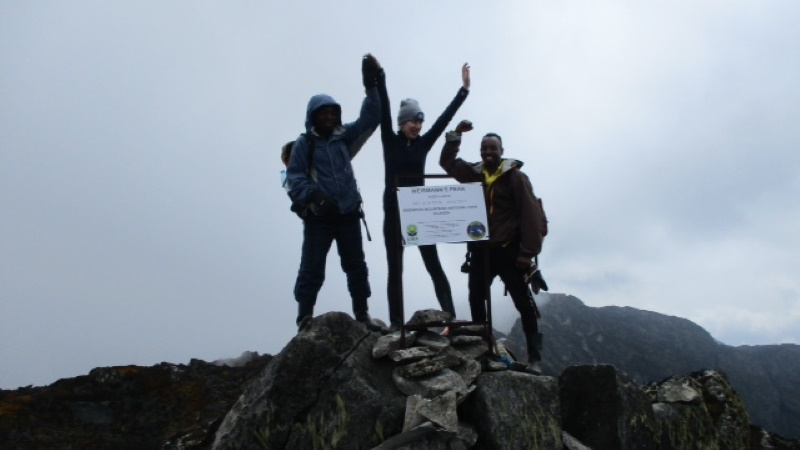 Kuro, Lamai and Ndutu - Luxury Tanzania Safari
We had a truly excellent holiday. Everything went pretty smoothly. Many thanks for all of your hard work on our behalf. We won't hesitate to use your services again, and will happily recommend you to anyone who asks.
There were too many "highlights" to mention here, but one of them would have to be seeing leopards on two separate occasions on the same day at Lamai – and not just as a distant speck, they were very close and out in the open. Despite having spent a lot of my early childhood in Kenya, and Heather and I having visited South Africa, Zimbabwe and Tanzania before on safari, neither of us had ever seen one in the wild before! And the sight of an enormous herd of Zebra and Wildebeest charging headlong into a lake to drink was astonishing too.
It would be unfair to single-out any of the three camps, Kuro (Tarangire), Lamai, or Serengeti Ndutu. They were very different, but all terrific in their own way. And our decision to stay for 6 nights at Lamai, to allow for some "chill" time, was very worthwhile.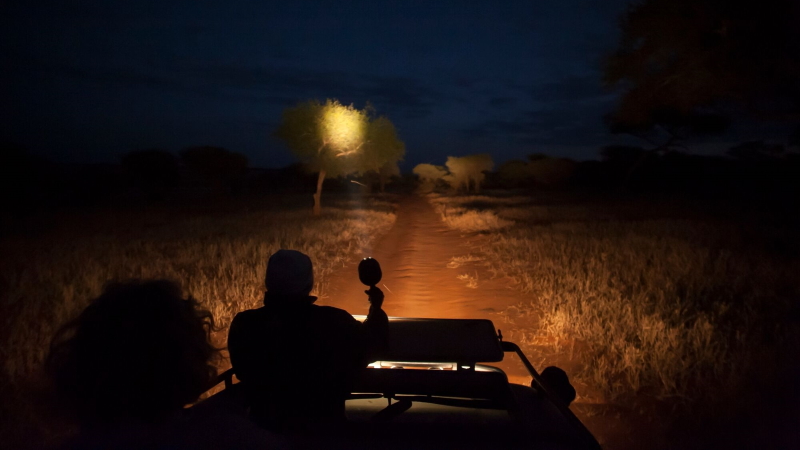 Arctic Adventure
Greetings and Salutations gentlemen,
Thank you for all your excellent organisational skills in putting this trip together. Jeremy, I am sure Wayne has filled you on the perfect trip it turned out to be.
I have done the first draft of my blog and should have it finished in the next day or so.
Amazing experience – can not wait until the next adventure – totally addicted and so thinking about the South Pole!
Speak soon and safe travels to the North Pole.
Rashmi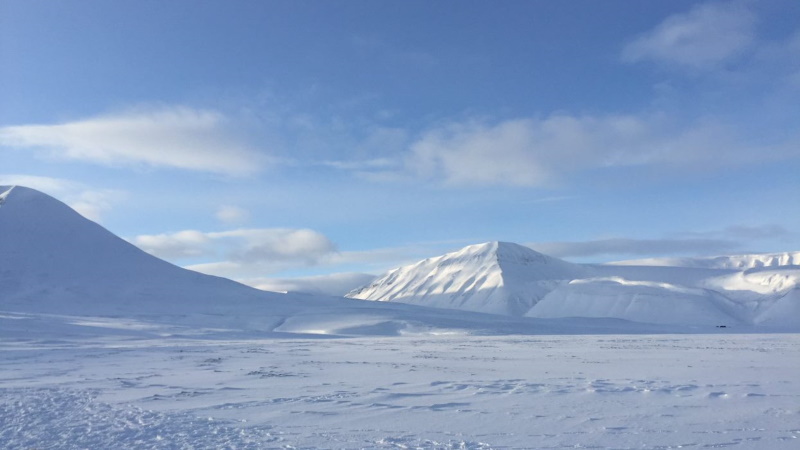 Ethiopia - Historic Route & Tigray
Hello Michael,
I just want to say thank you for organising an amazing trip for me in Ethiopia. I loved every minute of it. The icing on the cake was when the driver who picked me up in Addis in my last night was the driver/guide we had had from Mekele to Gheralta to Axum. We had a wonderful final evening having drinks at the Hilton and then dinner with a show.
It is difficult to pick a favourite place but I think maybe Gheralta and the remote rock hewn churches just take it.
Brilliant organisation with everything running so smoothly.
Thank you Nicola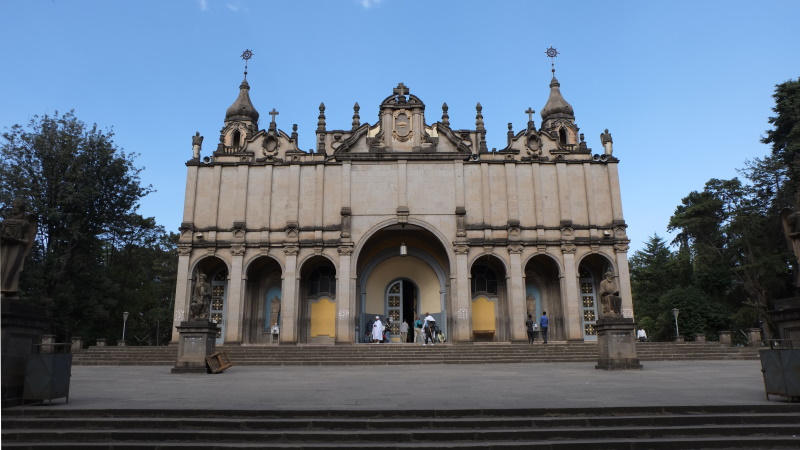 Linyanti and the Okavango Delta
Hi Clare
I would like to thank you for organising such a wonderful safari. It was perfect, locations, camps and guides, it was absolutely terrific and the 3 of us loved every minute of it.
Very best wishes and thank you again. This adventure will take some beating!
Regards
Adrienne, Conrad and Andrew
Our trip to Tanzania was incredible
Our trip to Tanzania was incredible and I have a lifetime of wonderful memories so thank you for organising and preparing us so well – I will come back to you again to organise my future adventures and have and will recommend Gane and Marshall to anyone that will listen to me. The AWC team was brilliant from the moment we met them they were full of energy, information, humour and kindness. I can say that every day was full of a lot of laughter and banter which is what you need to get you to the top of Kili. The equipment was great and what can I say about the food – we had a beef curry and chips at 4500m! Our head guide was Joshua and I would like it if you pass on a special mention to AWC about him – what an asset to them. Joshua kept us motivated, informed and strong when the going got a bit tough. On the final climb to the top I felt like we were in first class whilst other groups were in economy. I will never forget the songs welcoming us into camp at night and the welcome warm water provided after a long day trekking.
We then went on safari and Chem Chem was a true find. I have never stayed in such luxury before and the remoteness and quietness of the camp is breathtaking. I didn't realize that at Chem Chem the owners have, over the years, encouraged the wildlife to live amongst the camp so there are lions, zebra, giraffe etc. right outside where you sleep. We were able to go on a walking safari with a local guide (who was unarmed) which whilst a little scary proved again to be a memory to keep forever.
If I can offer any recommendations for Gane and Marshall then please let me know. You organised a wonderful trip for Beck and I, one we will tell our grandchildren about.
Best regards
Kate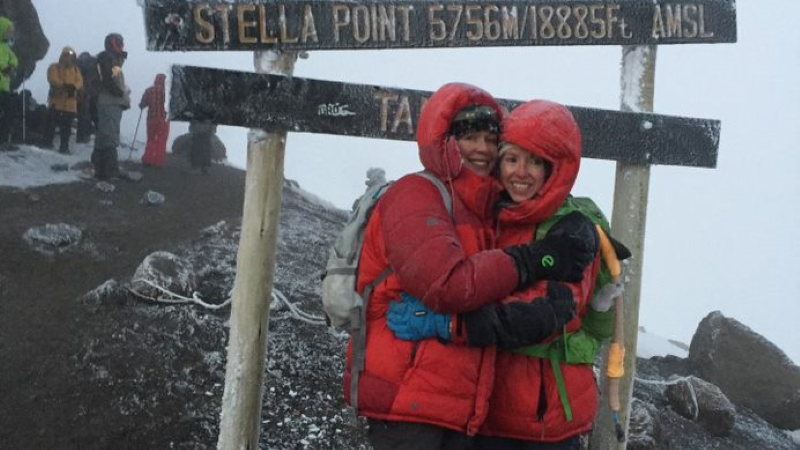 Kilimanjaro in support of the Lewis Moody Foundation
On 14 July, a team of 10 climbers successfully summitted Kilimanjaro in support of the Lewis Moody Foundation. They climbed via the unique North Face route, and returned with very positive memories of a tough but incredibly rewarding climb. Here are some of their comments:
From Annie: "Summit day, as you said, was brutal! …it definitely pushed us all that day and we were very proud to have made it. The guides were wonderful, I can not fault them, Saimon was the perfect lead guide, calm, reassuring, meticulous in his care and making sure we were all well enough to continue etc… he ran a slick operation overseeing 44 people with ease. We were all very impressed …Thank you for an amazing opportunity, I have never harboured a need to climb a mountain, but I wouldn't change it for the world now! It really was breath taking and I have memories that I will treasure for a lifetime."
From Matt: "I've honestly had the trip of a lifetime. I had high expectations of the trip but it far exceeded them. I would be back there in a second given the chance! Summit day was long and tough but no more than expected and this was part of it. I'd do summit day again tomorrow as well given the chance!
"We were lucky to have a very supportive group of travellers who bonded quickly. I was blown away by the scenery and thoroughly enjoyed the challenge it provided. It has only made me keener to do something like this again in the future!"
You can find a selection of photos from the group as well as more detail about the Lewis Moody Foundation and their fundraising goals on our blog.
Kilimanjaro & Zanzibar
Dear Clare, Jeremy and Mike
I just wanted to let you know how wonderful the holiday was and especially the Kilimanjaro team. Simon was utterly dependable and kind. All of the guides had something different to bring and getting to know them a little was a joy.
I loved almost every minute of the trek (altitude sickness got me on day 3!) The route was varied and always fascinating. Highlights were Barranco wall, the sound of the camp in the morning with all the laughing and singing and the mountain itself.
Hope all is well and you are still basking in the sun in France.
Kind regards
Rebecca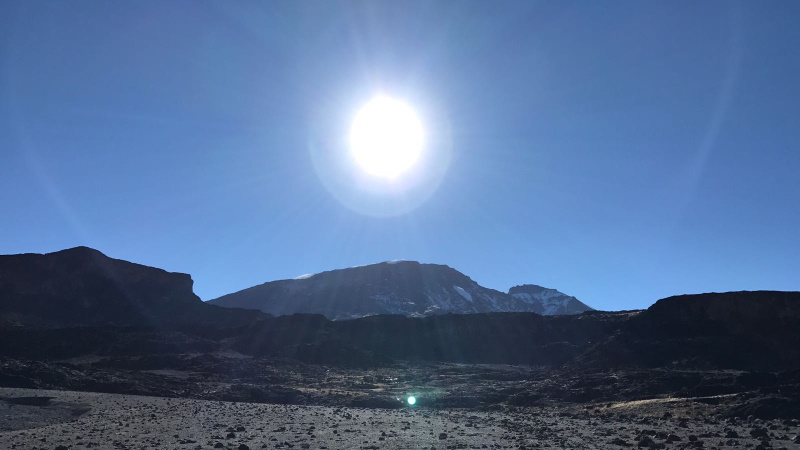 Serengeti Honeymoon
Morning Clare and Jeremy
Just a quick note to say a massive thank you for organising the most amazing honeymoon!  We truly loved every part of it and had such a special time.  The safari experience was brilliant and we were lucky to catch the migration which was incredible.  All the connections worked well and the guides were excellent.  We could easily have stayed at Fundu for another week!
Thanks again and yes we even had sun on our wedding day!
Best regards
Tim
Tim and Clare also left the following comments on their feedback form:
Clare was very helpful and responsive in ensuring we had the most bespoke trip
What were the highlights?
Too many to mention!  The migration, the Crater, the guides and staff (all great), the food, wildlife, transfers which all worked very smoothly, Fundu Lagoon (we could have spent another week there!).
Do you have anything else you would like to add? Perhaps a particular element of your trip deserves a special mention, if so we would love to know about it!
Lamai Nomad was particularly special!  Amazing setting, brilliant guides, saw incredible wildlfe, stunning rooms, very tasty food and Mark was extremely friendly and welcoming.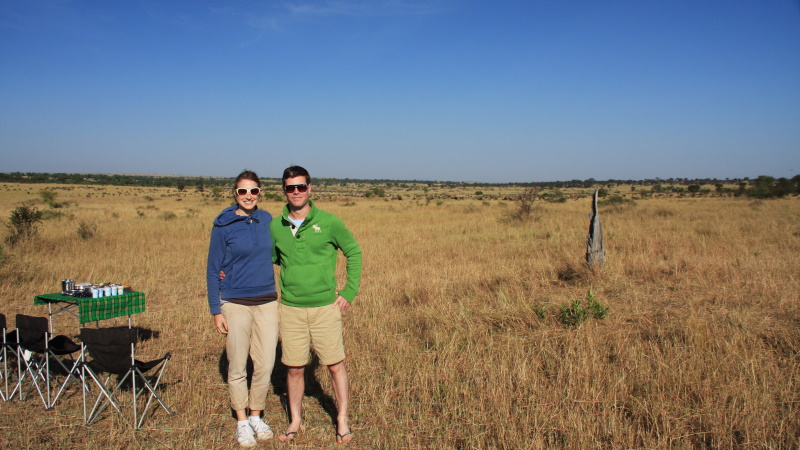 Family safari in northern Tanzania
Hi Sarah,
We have had an amazing time! So many highlights and everything worked really well. We all agreed that we think it exceeded expectations! Thank you for putting together such a fabulous trip.
I'm happy for you to call me anytime for the " lowdown"!
Amy (aged 20) and Sofia (aged 9) have filmed things for a vlog that they are editing  to upload online so I can't wait to see that in addition to all of our photos.
Best wishes
Sam
Note from G&M: You can find links to Amy and Sofia's fantastic vlogs of their safari on our blog.
Shut off from civilisation in the Okavango
Hi Sarah,
We had a superb time. Seeing all the wildlife was an amazing experience. Also the landscape and the state of being shut off from civilization and phone service was great. It really made me use and feel all of my senses all the more again.
The local team did a fabulous job and everything was perfectly lined out and organized. It seemed like they are amongst the best of the Safari tour operators.
Personally my highlight was having had the chance to see a leopard in nature, even though it was a short interaction. The special events, which is the interaction with the San people and the Mokoro people in the Okavango, have been a unique experience to me.
Thank you once again for managing everything in advance!
Best regards,
David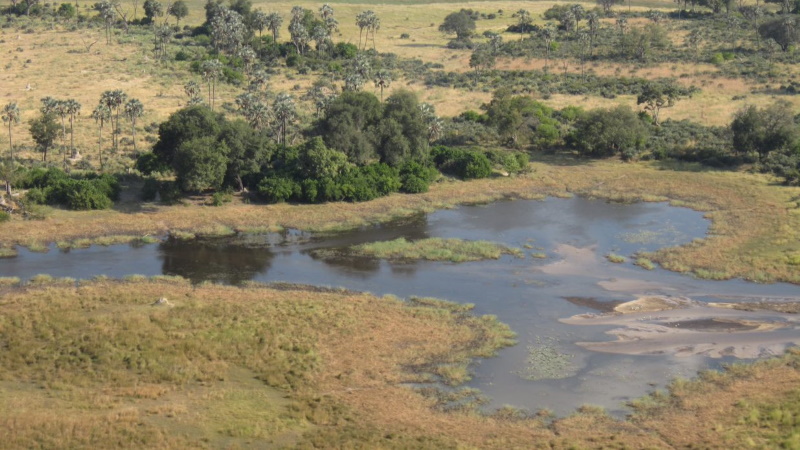 Botswana Mobile Camping Safari
Hi Clare
Our trip was wonderful and we enjoyed every minute of it!!!!!
Cape Town - great accommodations in a beautiful setting - we really enjoyed the V&A waterfront - lots of delicious seafood - both the Cape tour and the wine tour were excellent - we had the same guide for both and we learned a lot about the history and politics of South Africa and enjoyed the beautiful scenery.  Cape Town was a good chance for us to rest a bit after our long air travel.
The safari was brilliant - it far exceeded our expectations - the accommodations were great - tenting is the way to go on safari - makes you feel part of the natural environment - and lots of interesting sounds at night!  We had great food and very friendly staff at each of our camps - We can't say enough about our guide Jakes - he was wonderful - he had extensive knowledge about all the wildlife and willingly shared that with us - and he was super at locating the wildlife too - we saw elephant, lion, leopard, hippo, giraffe, wildebeest, wild dogs, jackal. buffalo, kudu, impala, baboon, monkey,  zebra, ostrich, warthog, African fish eagle, etc.  Jakes was one of the highlights of our trip!
Victoria Falls - another highlight - and the Elephant Camp was a luxurious way to end our trip! All of our flights and connections went without a hitch (thank goodness!).
I was worried that my wife might not enjoy the trip as much as me but she really got into it and became quite a good game spotter!  My only concern now is that we have set the bar very high and it may be tough for any future trips to measure up.
Thanks Clare for all your work on our behalf.  And thanks to all the people who took such good care of us - they were all so good and so friendly.
Cheers
Rich