Gane & Marshall
Unforgettable journeys,
tailor-made for you.
Banner image: Elton John Aids Day climb with David Furnish, Johnny Bergius, and Janet Street Porter, led by Jeremy Gane.
Below you will find feedback from clients of Gane and Marshall who have travelled with us in the past.
Zambia safari
We arrived back last Saturday after spending a few days in England at the end of our trip.  All your arrangements worked perfectly, thank you. Our stay at Kafunta was wonderful because we were the only ones there for most of the first three days and for all our time at the Bush camp, which was especially nice. Our guide there, Martin, was really excellent. Huntingdon House was a very pleasant change, like travelling back about fifty years. And our stay at Waterberry was also delightful, with a wonderful evening boat ride on the Zambezi river a highlight almost as memorable as the falls themselves. We were pleasantly surprised to find the weather there was less hot than we expected, and the mosquitoes etc were fewer and less bothersome than expected.  All together a very happy trip!
Now we are gradually easing ourselves back into our less exotic routines.
Thanks again for your efforts to give us a very memorable trip.
Best regards,
Nigel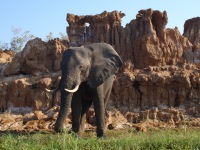 Family adventure in New Zealand
G&M stepped in at very short notice and put together a great trip on a very limited budget. We did everything we wanted to do, and more, within our budget. What deserves the biggest mention and thank you is Sarah Williams - her commitment and effort to deliver a great trip for us was exceptional. Prompt replies to every query, good natured approach to our making amendments, comprehensive replies to every query, anticipating what we might need or want; basically taking the whole responsibility from our shoulders and organising a trip for us as if she were doing it for her own family - more than exceptional service! Thank you, Sarah! PS Can you please add South America to your list of places that you cover?
Valerie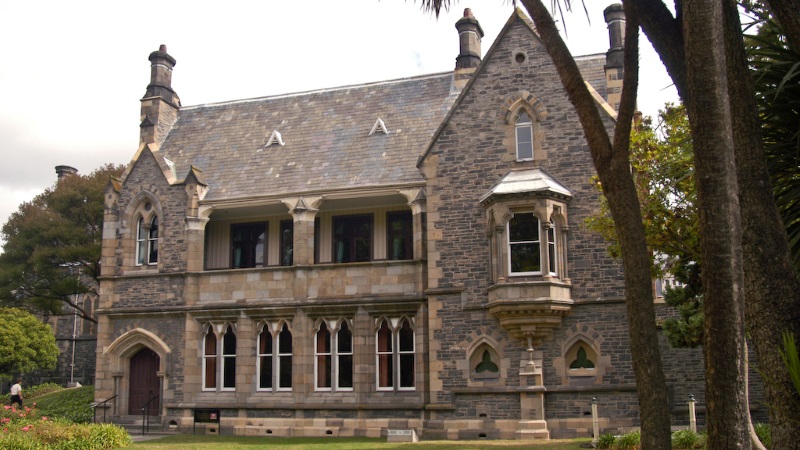 A wonderful time in Costa Rica
I had a wonderful time in Costa Rica so BIG THANK YOU for organising this holiday for me! The guides were very good, the transfers and the transport very punctual, clean and traveller-friendly. The hotels were great, the staff most helpful, as were all Costaricans (Ticos) I came across. I couldn't fault it if I tried!
Best wishes,
Jo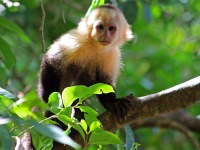 Quito and the Galapagos
Hi Sarah;
Sorry I haven't gotten back to you sooner.  We have been busy settling into Canadian life, getting the house unpacked, etc.
Sandy and I had a fabulous time in Ecuador and felt the entire trip was incredibly well organised.  Thank you!!  The guides went above and beyond to fit as much as possible into the itinerary, even beyond what was outlined.
The Galapagos, as expected, was spectacular.  The Yacht LaPinta was lovely and the crew was wonderful and friendly.  We felt our time on the boat was a bit short.  Essentially Day 1 and 4 were lost to check in/out and travel... so we really only had 2 solid days and saw 2 islands.  Would have liked to see a bit more, so would definitely recommend minimum of 4 nights versus 3.
The real surprise was Quito and the mainland.  We, like most tourists, went to Ecuador for the Galapagos.  But we found incredible culture, history, landscape, architecture in Quito and the surrounding countryside.  We loved Otavalo market, Hacienda Muleta (although, again, needed more than 1 night).... and lunch at Hacienda Pinsaqui was spectacular.  This was a beautiful hacienda, which I would definitely recommend for one night as it's full of history, architecture, stunning grounds.  In fact, I think it's more beautiful than Muleta (although it doesn't have the range of activities).
Although our family has had a long love affair with Africa, my first trip to South America suggested that there's lots there for us to discover.  I'm looking forward to going back one day with my husband.  Absolutely lovely people, food, country.  I can't say enough about it.
As with all of our Gane and Marshall trips, it was impeccably organised to our tastes and interests.
Thanks so much for another wonderful trip!
As we head into the holiday season, I wish you - and Clare and Jeremy - all the best.
Regards, Linda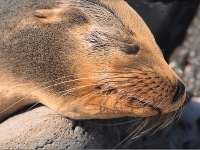 Wildlife experience in Brazil
I went to Brazil mainly for the wildlife, which indeed was outstanding, but the wow factor was definitely at the Iguassu Falls.
I have become accustomed to excellence from G & M in my holiday arrangements, but Sarah's knowledge of the area, her attention to detail and her ability to really fit the trip to my individual aspirations is outstanding. Sarah has organised a number of trips of this nature for me now and every one has been perfection. I go on other sorts of holiday  trips, but I would never contemplate going elsewhere for tailor-made wildlife trips.
Zambia and Malawi safari
Hi Clare,
Just to say thanks for a brilliant holiday. Your organisation went like clockwork - no problems at all. We were met at Lusaka and Lilongwe airports by a Robin Pope representative which helped considerably. The Malawi Visa fiasco was a non event when we found our names on "the list" and we did not have to pay for a visa.
In Livingstone, we crossed to the Zimbabwe side of the Vic Falls for a spectacular view - and a drink in the Victoria Falls Hotel - the extra paperwork was well worth it. The lodges in Zambia were both very good and we much enjoyed the trip up to Tsika Island. The canoe trip back down the Zambezi was spectacular and we were unexpectedly joined by elephants for lunch. Richard caught the season record catfish - estimated at between 40-45 lbs plus a few good tiger fish.
The lodge in Malawi was spectacular and the staff there were extremely helpful and friendly. The food was also excellent. The game in Majete is spread out over a large area but we did see some
of the more unusual animals there - porcupine, genet, civet, sable. We didn't see a rhinoceros despite a couple of hours in a hide but thats the risk we took. (next time !) We also got on good terms with the bush pilots and had some interesting flights in Malawi when there were just the two of us plus the pilot.
In all a fantastic adventure.
Thanks again
Ed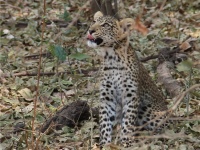 Ethiopia, Rwanda and Kenya
Dear Sarah,
Good to hear from you. We were intending to pass on some feedback…
The trip was fantastic, so we have to thank you +++ for arranging it for us. Most things went very smoothly, and the local companies you had arranged it through were reliable, efficient and helped make the trip such a success!
There were so many highlights. Perhaps chronologically –
1 Rwanda was a most pleasant surprise. Really enjoyed the drive down to the Ngungwe National Park. Did not realise it was such a mountainous, heavily populated country.
All the hills, slopes and lower mountains were covered with terraces and small farming plots. Main roads being done up by the Chinese and are very good.
The Nungwe Forest Lodge was just amazing –modern architecture that made the most of a glorious setting amidst tea plantations , overlooking the rain forest. Vervet monkeys swinging by our balcony, and colobus monkeys in the forest near the main building! Food impressive too. Was a trip highlight, accommodation wise.
The gorilla experience was fantastic, perhaps better than Bwindi, Uganda, as the viewing took place in an open area, the Kwitonda family lazing in the sunshine for us. The arrangements for the trek enabled people to express a desire for an easy or more difficult trek, which was good.
We happened to be there on the day of the Kwita Izina, or"naming ceremony", for the new gorilla babies born over the year. Huge event and a special experience. Even the president was there! Could recommend this for travellers around the time of year for it. Our guide, from Amber Expeditions, Guillaume, was delightful, efficient and very helpful, and there were no problems. All other accommodation was comfortable and clean.
2-Masai Mara.
We couldn't recommend the Speke's Camp highly enough! From our collection on a bush airstrip by Adrian, the owner, to the delivery back by our personal guide Lekopein at the end, we had a wonderful time. The camp itself is small, with ? 5 or so large, and very comfortable tents. They were well set up, flushing loo, hot water on demand, and mosquito proof.
It overlooked a grassy hillock, and our tent was next to a small stream. Quiet and secluded
The décor in the mess tent was safari camp style, with memorabilia and knick knacks from the local cultures. Food was wholesome and generous.
We were the only ones in the camp for our 4 night stay. Which was amazing for us, but hard to understand, as it was such a good set up.
We had our own vehicle and guide for the stay [I think this is the norm, even when they are busier]. The young Masai guide Leko was very switched on with excellent English, and a remarkable wildlife tracker. We saw so much in a short time – the wildebeest migration was all around us, and the vastness of the numbers was  awesome. He found us a family of leopards with two babies that played and romped within easy viewing, on our own, without a plethora of safari vehicles. Also baby cheetahs, lions, warthogs. Also we saw a grazing rhino close up, and some mini wildebeest crossings, with unfortunately a croc attack. And lots more. The sundowners were memorable. The camp was one of the best that we have stayed in during our 5 trips to Africa. Maybe not all the frills, such as infinity pool, or fancy cosmetics. But a wonderful safari experience by dedicated professionals who love what they are doing. Do hope you can recommend it to other travellers!!
3-Ethiopia
Guess you have a lot of clients going there, as I gather it is one of Jeremy's specialties. Was not sure what to expect, but it surpassed my limited expectations!
We were looked after very well. The itinerary was good, and the guide, Bereket Gebreyes, was again excellent –transport picks ups, local guides, flights, accommodation all worked well.
The Meskel ceremony was an experience indeed and not to be missed. Our guide in Ethiopia was one of the best we have had in our travels in Africa. A 34 yr old guy from Addis, putting up with two nearly geriatric sisters for 19 days… A big ask!! Bereket was very experienced, knowledgeable and passionate about Ethiopia! He was meticulous in looking after us, sensitive to our interests and needs, and very generous with his time and insights into contemporary culture. He even had a great sense of humour.  He ended up feeling more like a friend than a guide, and we felt so spoilt by him, as he did all that he could to ensure we had a great holiday.
Was also impressed that Zab came and met us briefly at our farewell dinner. And gave us a gift of some Ethiopian coffee!
All the transport was good – comfortable, clean and reliable. The drivers deserve a mention. They were careful and safe drivers. As I am inclined to be car sick on winding, mountainous roads, I really appreciated their sensible driving.
So all in all, we have much to thank you for.  For arranging such a memorable holiday again, and doing it with efficiency and patience. We are now back to saving for the next foray into Africa…
Hope you are managing to escape work and have some travels too !
Thanks +++
Carol from perth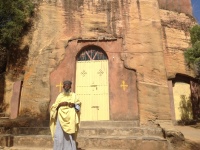 Wedding in the Serengeti
Jeremy,
All the planning and conversations we had prior to our trip proved to be invaluable, thank you so much for all of your advice and recommendations.
Our trip started with our private safari tour which was indescribable, we are still in awe at the nature and beauty.  The tour, the guides, the hotels, we couldn't have asked for any more.  The wedding day which we squeezed in mid-tour was incredible overlooking the Serengeti plains. The Serena Serengeti that you recommended made our day very special.  Every other place we stayed following this continued to spoil us on our honeymoon which is thanks to you for informing them.
The Rongai Kilimanjaro tour with the African Walking Company was fabulously slick and well organised and we had a fantastic bunch of fellow trekkers in our group.  The standard of our guides and camp seemed to excel others that we observed along the way.  12 out of 13 people got to the Uhuru summit.  What an experience.
The finale of our honeymoon at Breezes in Zanzibar was a nice way to wind-down.
We have since recommended you to a couple in the UK and will continue to do so.  Your attention to detail and personal touch made the difference.
Thanks for the trip of a lifetime.
Justin & Tracy.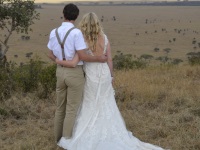 Lovely memories of a holiday to Tanzania
Thank you for your email.  We most certainly did have an amazing safari - although it seems like ages since we were there!!
Everything went very smoothly and there were absolutely no hiccups at all.  The lodges were really top quality in terms of rooms, service and food.  We really liked the camp too - in fact this was our favourite as we really did feel at home in the tent.  All the places we stayed were beautiful in their own way - I am glad that we stayed in 3 different places as I liked the variety.
The balloon safari was very enjoyable and you could see for miles - on our flight we saw very few animals - but it was great fun and I don't know how they managed to produce an English breakfast in the middle of nowhere.
Our guide was just perfect.  The right side of friendly and a great source of bird and animal knowledge!
The game viewing was excellent. We saw so many different creatures and all the ones that you would hope to see - including a black rhino and youngster.  We didn't see the wildebeest crossing the river but we saw a video made by another visitor at the camp.  It showed a young wildebeest being picked off by a croc - it really upset my daughter even though she was fine with lions tucking into a hippo - so I think that missing the crossing and just seeing them gather was ok!  We got to see the rhino whilst near to the river so that was a pretty good alternative!
I asked Elsa what was her favourite part of the trip and she said all of it!
Thank you for organising our trip for us - the itinerary was spot on and we had a lovely time together. We now have lots of lovely memories to chat over and laugh about.
Best wishes
Faye and Elsa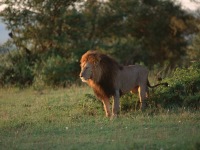 Southern African honeymoon
Hi Clare
Just a quick message from myself and Sarah to say thank you so much for putting together our honeymoon package. Sorry I missed your call - I think we may have actually been getting married in the church when you rang!
Each lodge and guest house we stayed at exceeded our expectations and we wouldn't hesitate to recommend them or the service that Gane & Marshall and yourself offered.
Each accommodation was beautiful and so different from the last, which only served to enhance the wonderful experiences we gained at each step of our journey. The private dinner that the Waterberry Zambezi lodge arranged for us on our lodge decking area to celebrate our honeymoon and the help that Adley house offered to help try and track down our lost camera are two examples of the extra mile that each place went to make our time in Africa so special.
The timings and structure of the honeymoon were perfect and we would really like to thank you for putting together a package which provided us with every aspect which we hoped for. For example, we had an extra day compared to most other guests at Muchenje which allowed us to visit a local school, an experience which will live long in the memory. I would definitely recommend people get the time to do this! Hiring a car was also excellent advice. We never felt threatened or in danger in our car and the South African roads are relatively well maintained. It was great to go from the tranquillity of the Zambezi, to the long but thrilling days on safari, to the city and culture of Cape Town onto the final relaxing stops up to Oodsthoorn through the mountains and back down, along the wonderful beaches of the garden route.
Thanks again for making the trip so memorable
All the best for the future
Dean & Sarah
Thanks again
Arctic cruise
Hi Sarah,

it was fabulous - it was wonderful - it rained (a bit) - it was foggy (somewhat more) - it was sunny (A LOT).

As for animals: some whales; some walrusses (this time viewable on land rather than from the Zodiacs); some (very few) polar bears - but I didn't mind since last year's trip was unbelievable in that regard; and millions thousands tens of thousands of birds (on the bird cliff) - which we didn't see last year; some reindeer (in the middle of fog and snow and rain - but that didn't matter a bit).

Glaciers and more glaciers - of which I took way too many photos (if such is possible), but the colours ! oh the colours !

So - yes, it was a wonderful trip - and I don't regret a single penny, cent, kronur spent or the lack of sleep after 3 back-to-back flights on the way over from which I recovered after one night in the Coal Miners' Cabins and was awake in time for the 8:30 departure to Pyramiden.

Those 2 nights on Spitsbergen prior to the cruise were the right decision - since I was able to buy a new camera (I realized something was wrong with mine the day before I left Canada - but hoped I was dreaming !!! :) :) ) - and this one is several generations newer than my old one.

oh - and some of the crew will never forget me hounding them for the 2016 European  soccer scores - since we rarely had internet access and were dependent on crew or captain or just SOMEONE ! to keep us / ie. me up to date. Unfortunately - Iceland lost.....
and then my default team (Germany) lost as well - but Portugal made up for it !!! That final game is the only one i have ever watched in my entire life.

So - in one sentence: i enjoyed the trip - and it wouldn't have gone half as well without you  -because everything worked just the way one hopes it will.

Thanks Sarah !

Monika
At the summit of Mt Stanley
Evening Jeremy
Greg and I just wanted to extend our gratitude again. We had a most fantastic experience.
The entire trip ran like clockwork and everything exceeded our expectations.
We will be sure to recommend your operation to others in the future.
Sincerely,
Reggie and Greg.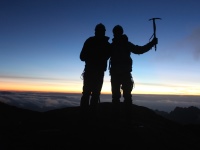 Wonderful wildlife in Costa Rica
Hi Sarah
Well, what can I say. The holiday was wonderful. Isabel and I cannot praise the organisation and smooth-running of the itinerary enough. Your agents in Costa Rica were organised, professional, very customer-oriented and extremely keen to please and ensure we had a great time.  We did. When we arrived at Villa Blanca we were the only two people there - quite amazing. Mind you it did rain. Didn't stop us walking and bumping into the odd armadillo and beautiful birds though.
We also are very impressed with you, Sarah, and your organisation. The tour you put together was everything we could have asked for. The accommodation was great, food excellent the people lovely and where do I start with the wildlife opportunities we enjoyed culminating in a fantastic whale watching morning with mother and calves humpback whales being pestered by three males. Wonderful.
The chef at Rancho Naturalista was absolutely amazing he conjured up some amazing vegetarian meals all beautifully presented. But I have to say that all the food was great.
I think the only thing we under-estimated was the humidity and its impact on our laundry!  Cannot ever remember not being able to get my smalls dry.  But small price to pay.  We had such lovely spontaneous wildlife encounters that the lack of 21st century conveniences really were something we easily adapted to.
I'm sure Isabel will be contacting you because we really were extremely impressed with the whole package and shall have no hesitation in using you again.
Thank you so much.
Speak soon,
Felicity
Safari in the Masai Mara
Dear Sarah,
The trip was really awesome from lion catch to gnus crossing the Mara. Perfect guides, excellent food, perfect organization … formidable!
Thanks a lot!
Best regards,
Geert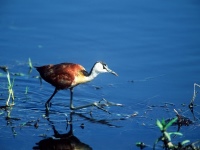 Okavango and Chobe safari
Clare,
If I was going to rate our Botswana safari I would say A or even possibly A+. We had a grand adventure. We'll never forget it.
The key was our guide, Nelson.  Whatever you are paying him it is not enough.  He was fantastic!  He was very friendly and affable.  He was also extremely knowledgeable.  We asked him thousands of questions and he was able to answer them all.  He was also patient, capable and professional.
If we got stuck in the sand or had a flat tire, we never worried.  We were confident he knew what he was doing and he did.  He really looked out after us and we were grateful to be in such competent hands.
We got tons of great pictures and saw everything we had our hearts set on, including leopards, lions and cubs and my personal favorite, the honey badger.
Only glitch was the transfer at the Kazungula crossing.  The small boat from Zambia made us wait for a hour because he was waiting for some people on the other side, which was kind of a pain in the ass. But that was out of Nelson's hands, and pretty minor.
I would recommend your company without reservation for Botswana travellers.
Thank you also for all your help!
Sending along a couple of pics