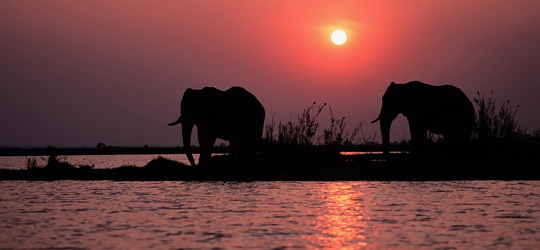 Zimbabwe
Tailor-made safaris to Zimbabwe visiting Hwange, Mana Pools, Matobo and the Eastern Highlands.
Zimbabwe's troubles have for some time overshadowed its appeal as a travel destination. Once one of the most famous safari destinations in Africa, second perhaps only to Kenya, today Zimbabwe is better known for its uncompromising political regime. This is changing, however, and Zimbabwe has in recent years begun once again to attract wildlife enthusiasts to its extensive safari reserves, which remain amongst the most beautiful and pristine in all of Africa. Indeed, for wildlife enthusiasts looking for a remote bush safari, there is perhaps nowhere better in all of Africa than Zimbabwe.
With world renowned national parks such as Hwange, where you will find the big 5 amid stunning landscapes, as well as a reputation for producing some of the best wildlife guides in Africa, a top safari is all-but-guaranteed when you visit Zimbabwe. It's not just 'big game' territory, either; Zimbabwe is also recognised as an excellent birding destination, with Hwange home to some of the most significant rare bird populations in Africa.
Two of Zimbabwe's national parks, Mana Pools and Matobo, are designated world heritage sites in recognition of their great natural beauty. Mana Pools National Park, in particular, stands out. Wild and beautiful, it is one of Africa's great undiscovered gems, and attracts very few visitors despite its stunning scenery and varied game. Canoeing safaris on the four main pools that make up this unique area is a wonderful safari experience not available elsewhere.
Beyond its wildlife, Zimbabwe is also home to a number of sites of real historic interest. With the exception of the great monuments to be found in Ethiopia, there are no historical sites in sub-Saharan Africa to compare with the Khami and Great Zimbabwe Ruins, both designated world heritage sites. Dating back 500 and 1,000 years respectively, these monumental stone ruins provide an insight into one of the greatest of Africa's known medieval civilizations, the Bantu.
Most visitors to Zimbabwe take the time to explore Victoria Falls, or Mosi-oa-Tunya, which is easily accessible from Hwange. Located on the Zambezi River, on the border between Zambia and Zimbabwe, this natural wonder needs no introduction. It is the biggest waterfall in the world (measured on width and height) and it produces the world's largest sheet of falling water. The Vic Falls are at their peak in April, but you can visit them year-round.
While Zimbabwe has not enjoyed a settled history of late, the country is now re-emerging as a safari destination of great appeal, particularly if you want to get away from the crowds of Kenya, Tanzania and South Africa. New lodges are opening, established lodges are being refurbished, and feedback is extremely encouraging. With visitor numbers growing and set to continue to grow, now's the time to visit.
ZIMBABWE TRAVEL ADVICE
Zimbabwe's dry—and peak—season runs from June to October.

Zimbabwe's green season occurs principally between December and March, though expect some rain in November and April.

The dry months are cooler so bring some warm clothes for the evenings when on safari, particularly if you're visiting the Highlands!

It's important to book your Zimbabwe safari in advance. Zimbabwe sees fewer visitors than other safari destinations, but there are also far fewer camps, and the best are often fully booked.

Zimbabwe combines well with a safari in Botswana or Zambia, both of which are accessible from Victoria Falls.
Example itineraries in Zimbabwe
Hwange National Park and Victoria Falls
This one week safari focuses on Zimbabwe's premier game park, Hwange National Park. You will spend two nights in the recently-restored Victoria Falls Hotel, before venturing to Hwange, where you stay in the newly-opened Linkwasha Camp, a luxury camp situated in the park's remote eastern region.