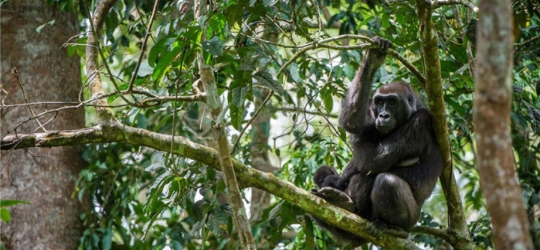 The Congo
The Republic of Congo represents Africa at its most wild and untamed. For a long time largely closed off to tourism, this former French colony has in recent years opened up to outsiders, and today attracts growing numbers of visitors and safari-goers. The country's primary wilderness attraction is its population of western lowland gorillas, among the largest in the world, and its huge swathes of pristine rainforest, rivers and swamp, which form part of the larger Congo Basin. Those who do choose to venture to this remote and unique safari destination will find a truly wild Africa, largely uncharted by travellers and almost entirely untouched by development and mass tourism.
Located in the remote north of the country, in the heart of the Congo Basin, Odzala-Kokoua National Park is the Congo's most spectacular safari park. It is home, not just to gorillas, but also to a host of other primates, including chimpanzees, as well as large populations of forest elephant and buffalo. Its stunning biodiversity makes it unique among African safari parks, and presents excellent game viewing opportunities – day and night game drives, river safaris, and forest walking safaris are all possible, ensuring a thrilling safari.
THE CONGO AT A GLANCE
The Republic of Congo lies at the equator and as such there is little seasonal variation in temperature, which fluctuates between 20°C and 30°C.

The wet seasons in the Congo are October-December and March-April. The best seasons to visit are January-February and May-September.
Example itineraries in The Congo
Venture into the heart of the Congo Basin, the world's second largest expanse of tropical rainforest, and the home of Africa's densest population of western lowland gorillas. Rarely visited, Odzala-Kokoua National Park is Africa at its most wild.