Akagera National Park
Rwanda
Back to Rwanda
Akagera National Park
Demarcating Rwanda's north-eastern border with Tanzania, the landscape of Akagera National Park could scarcely provide more of a contrast to the terraced hills that characterise much of the rest of Rwanda.
Wonderful wildlife in Costa Rica
The holiday was wonderful. [We] cannot praise the organisation and smooth-running of the itinerary enough.

Felicity and Isabel
Accommodation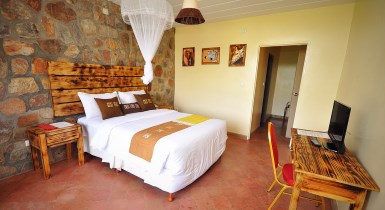 Akagera Game Lodge
Akagera Game Lodge is currently the only place to stay in Akagera Game Lodge. A large, not entirely attractive hotel, it does have the advantage of a marvellous location, overlooking a busy watering hole.
Read more
Testimonial
I had a fantastic holiday climbing Kilimanjaro... made even more enjoyable because of the organisation by G&M

Laura Cowley