Akagera National Park
Rwanda
Back to Rwanda
Akagera National Park
Demarcating Rwanda's north-eastern border with Tanzania, the landscape of Akagera National Park could scarcely provide more of a contrast to the terraced hills that characterise much of the rest of Rwanda.
Acclimatising safari helps Kelly Katcher summit Kilimanjaro
[Kilimanjaro] was one of the most difficult things I've ever done, and will probably be the most memorable.

Kelly Katcher from the USA
Accommodation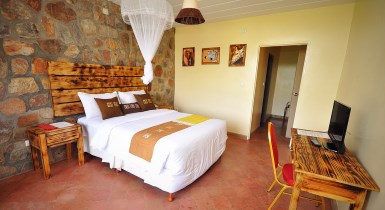 Akagera Game Lodge
Akagera Game Lodge is currently the only place to stay in Akagera Game Lodge. A large, not entirely attractive hotel, it does have the advantage of a marvellous location, overlooking a busy watering hole.
Read more
Testimonial
The holiday was wonderful. [We] cannot praise the organisation and smooth-running of the itinerary enough.

Felicity and Isabel