Northern Vietnam
Halong Bay, Mai Chau, Hanoi, Sapa
Back to Vietnam
Northern Vietnam
Within easy reach of the capital, Hanoi, Northern Vietnam offers a multitude of natural and cultural attractions: cruise the UNESCO World Heritage Site of Halong Bay on a traditional Vietnamese junk; admire the dramatic Karst scenery at Tam Coc; or visit authentic White Thai villages in the Mai Chau Valley.
Arctic cruise
It was fabulous - it was wonderful - it rained (a bit) - it was foggy (somewhat more) - it was sunny (A LOT).
Featured itineraries
The Remote North of Vietnam
Escape the beaten path on this journey into Vietnam's northern highlands. Trek and bike to isolated hamlets in Mai Chau, learn about Vietnam's colonial-era history and independence struggle in Dien Bien Phu & Son La, and discover some of the country's most splendid scenery in the hills around Sapa. This 13-day itinerary starts and ends in Hanoi, and includes an overnight cruise on Ha Long Bay.
Experience
Cultural Holidays
Walking and Climbing
Prices from £1950 pp
Read more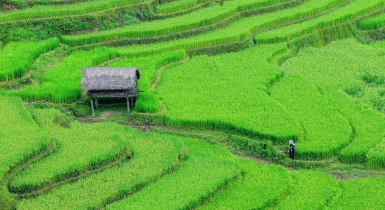 Northern Highlights of Vietnam
Discover northern Vietnam on foot, by bike, by train and by boat on this 12-day itinerary that focuses on the region's natural and cultural highlights. Go hill-walking in Sapa, take the sleeper train between Hanoi and Lao Cai, and cruise Ha Long Bay. Other regions visited include beautiful Cuc Phuong National Park and the Duong Lam & Ky Son ancient villages.
Prices from £1495 pp
Read more
Accommodation
Bangkok and Ayutthaya
You did a great job in crafting the parts of this trip and all of us were very happy with what we saw and did.