Thailand Beaches
Phuket, Koh Samui
Back to Thailand
Thailand Beach Holidays
Thailand is famous for its beautiful coast and island getaways, from the busy resort of Hua Hin south of Bangkok to the stunning island retreats of Phuket and intimate Koh Chang. Thailand's beaches are perhaps the finest in all of South East Asia.
Family safari to Tanzania
Thank you so much for all your work in putting our trip together; we all absolutely loved it.
Featured itineraries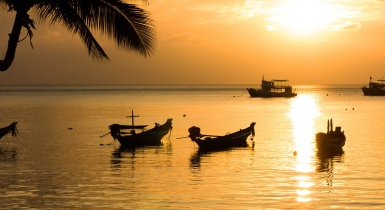 Thailand for Two
Take in the best of Thailand's city sights and beautiful beaches in this ten-day romantic holiday designed for two. This itinerary is ideal for honeymooners but can easily be adapted to suit groups or families.
Experience
Beach Holidays
Honeymoons and Weddings
Prices from £2795 pp
Read more
Wedding in the Serengeti
All the planning and conversations we had prior to our trip proved to be invaluable.