Northern Thailand
Chiang Mai, Golden Triangle
Back to Thailand
Northern Thailand
Northern Thailand is home to the country's second city, Chiang Mai, a vibrant, colourful town with a very different character to modern Bangkok. The city is the gateway to Thailand's northern hills, which offer marvelous opportunities for trekking and adventure.
Comfort trekking in Nepal
We would particularly like to thank our fantastic guide and team who helped make this such a memorable trip.

Phil & Patti
Featured itineraries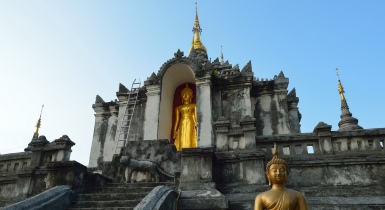 Historic Thailand
Discover Thailand's rich history, from 13th-century Sukhothai, royal seat of the first Siamese dynasty, through old Ayutthaya, Thailand's great historic capital, to modern-day Bangkok.
Experience
Cultural Holidays
Family Travel
Prices from£2385 pp
Read more
Testimonial
We are safely back from our wonderful fortnight in Africa, and we all want to say a big thank you.

David and Patsy