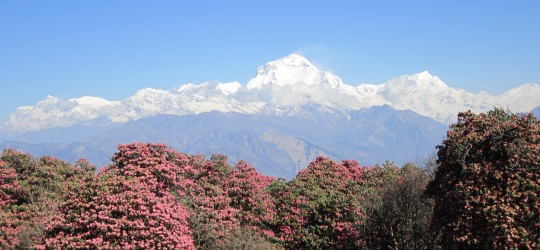 Trek Nepal
Introduction to Nepal

Nepal is a small country with a hugely diverse landscape, from the humid Terai in the south on the border with India, to the magnificent Himalayas in the north, bordering Tibet. The Nepali Himalayas boast eight of the world's ten highest mountains, including the legendary Mount Everest, as well as numerous peaks over 6,000 metres, including Mera and Island Peaks (please contact us for an Island Peak climb itinerary).
Beside Mount Everest there are many other 8,000 meter peaks in the region: Lhotse, Cho Oyu and Makalu, and in addition numerous other peaks of lesser altitude but no less stunning to behold. Of course, Nepal offers more than mountains: glacial lakes, rhododendron forest, native flora and fauna, traditional villages and ancient Buddhist monasteries all make Nepal a truly spectacular destination to visit.
Trekking in Nepal
From Kanchenchunga on the eastern frontier of Nepal, to Dhaulagiri to the West, the Himalayas of Nepal offer a wide range of trekking experiences. From walks along the well-trodden trail to Everest base camp, to treks in more remote semi-wilderness areas, there is a wide range of choice to suit both the experienced and first-time climber. Our most popular trekking itineraries in Nepal are to Annapurna and Everest Base Camps, however we also offer a number of less popular trails - contact us for more information.
We design treks and climbs that suit your goals (matched to your capability), and your interests. Please contact us for a tailor-made itinerary.
"As we progressed up the Mera Glacier, Dorjee Sherpa asked us to look back to the north. Stretched across the far horizon like a giant's necklace, set against a sapphire blue sky, were the greatest Himalayan summits: Kanchenchunga, Nuptse, Lhotse, and Everest. The memory of that broad, majestic landscape will be with me for my lifetime." J.G. Trek Notes.
Nepal Internal Flights
As of December 2013, all Nepali airlines have been added to the EU air-safety list (i.e. ban list). In light of this, we have prepared "land-only" versions of all of our Nepal itineraries that avoid internal flights entirely. Contact us when planning your Nepal itinerary to discuss the available options.
How much does it cost?
See our Nepal trekking price guide
Example itineraries and information for: Trek Nepal
The Annapurna Circuit Trek packs the full range of Nepalese trekking experiences into a two week trip. You will begin your trek in the valleys of the Gandaki zone, passing through small agricultural communities, terraced rice fields and lowland forests, before grdually climbing higher, out of the sub-tropical zone and into a harsher climate. You will reach a max height of 5,416m as you traverse the Thorung La Pass, before descending to the lakeside city of Pokhara, the end point of your trek.
This trek passes through a more diverse range of climate, vegetation and cultures than most small countries can boast in their entirety. From the lush vegetation of rain- and temperate forests to terraced rice fields, the land and its people change daily or even hourly, giving trekkers a tantalising introduction to Nepal's natural and cultural beauty. There are priced options to camp or stay in tea houses and hotels.
Trek through the Sagarmatha National Park to the base camp of the world's highest mountain, Everest, in this most popular of Nepal trekking itineraries. You will begin your journey in Kathmandu, flying to Lukla and then journeying along the Khumbu trail, passing Tok Tok, Namche Bazaar, and Dingboche before reaching your goal at Everest Base Camp. Those looking for an extra challenge have the option to take on Kala Patthar.
Everest Base Camp Trek (w/ walk-in)
Everest Base Camp Trek beginning in Bhandar. To avoid flying to Lukla, this itinerary involves a 7 hour drive from Kathmandu to Bhandar, near Jiri, and a 5 day trek from Bhandar to Tok Tok, where you will join the main trail to Everest Base Camp.
An alternative to our standard camping treks, our Everest Base Camp in Comfort itinerary allows you to experience Nepal's most famous trekking route in the relative comfort of heated lodges and tea houses.
Nepal in Comfort - Luxury Trekking Routes and Rates
Our Nepal comfort treks are a luxury lodge-based alternative to traditional camping treks. These are mostly gentle trekking programs in which you are accommodated in comfortable, heated lodges and en-suite guesthouses. For the leisurely traveller who is looking to explore the beauty of the Nepali Himalayas but is put off by the Spartan conditions associated with traditional camping-based treks, our comfort treks provide the ideal alternative.
Nepal trekking and climbing rates, including Everest Base Camp, Annapurna, Island Peak, and Mera Peak. Please see our Nepal in Comfort brochure for separate rates for our top-end programmes.