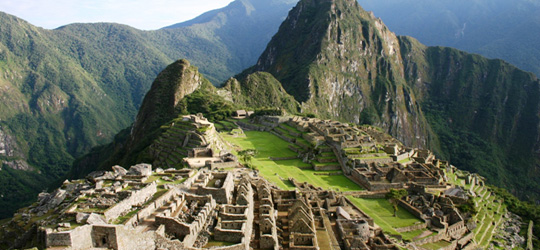 Trek Peru
Visit Peru, the ancient land of the Incas, with Gane and Marshall.
We organise extended treks to Machu Picchu via the standard Inca trail as well as the less trodden Lares Valley route. Gane and Marshall will also organise shorter 5 day treks to the ruins at Choquequirao.
Machu Picchu via the Lares Valley

Boasting spectacular scenery, this trek along the Lares Valley will offer you a real insight into how the Andean peoples live. The Quechua people dress in brightly coloured ponchos and live in thatched stone houses. Farmers herd llamas and alpacas, and guinea pigs often run loose inside the houses. Potato and maize are staple crops, and locals are also known for their intricate weaving, which dates back to the time of the Incas.
The region is also home to the Baños del Inca, probably the best hot springs in southern Peru.
Situated at an altitude of 2,667m, the springs offer spectacular views of snowy peaks and glaciers such as Mounts Veronica, Chicon and Pumahaunca. As you continue along your route, you will also take in the dazzling sight of glacial blue lakes.
You will eventually have some time to explore the ruins at Machu Picchu, the 'lost City of the Incas'. These breathtaking pre-Columbian ruins are nestled high in the Andes between two peaks. The ruins were rediscovered in 1911 by Yale archaeologist Hiram Bingham and are one of the most beautiful and enigmatic ancient sites in the world.
Example itineraries and information for: Trek Peru
Trek the Lares Valley to Machu Picchu
Your first taste of the Inca world will be in and around the city of Cusco, the ancient Inca capital of Peru. After acclimatising to the high altitude by visiting local Inca ruins and Spanish Colonial churches, you will head towards the remote and rarely visited Lares Valley. Tucked behind the Sacred Valley, the region has remained largely unchanged for more than 500 years.
Trek Choquequirao to Machu Picchu
This trekking program has you approach Machu Picchu from its south side, past the Apurimac river canyon, into the ruins of Choquequirao, and through the Cordillera Vilcabamba. A unique program, it is perfect for those who want to combine archaeology and mountains.
Experience the mountains of Peru in comfort on this fully lodge-based trek to Machu Picchu. An alternative to the standard camping-based routes, on the Salkantay Journey you will stay in four top-quality mountain lodges, all of them located in pristine areas on a remote, uncrowded trail to Machu Picchu.
Peru trekking rates, including the Lares Valley and Choquequirao routes to Machu Picchu.