Amazon Rainforest (Peru)
Peru
Back to Peru
Amazon Rainforest
Explore Tambopata Reserve, visit oxbow lakes, search for tamarin, howler and capuchin monkeys or discover Pacaya Samiria National Reserve by riverboat cruise. However you choose to visit the Amazon, it's incredible biodiversity is bound to astound.
A very special safari
A big thank you for all your help in making our trip to Tanzania very special.
Featured itineraries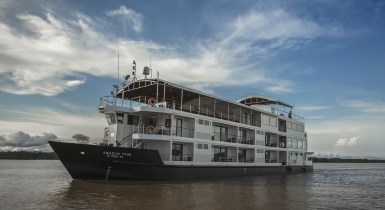 Amazon River Cruise (Pacaya Samiria)
This 5-day cruise itinerary takes you deep into the Peruvian Amazon, as you explore the labyrinthine waterways of the Pacaya Samiria National Reserve, named after the two tributaries of the Amazon River that flow through the area – the Pacaya and the Samiria. The cruise takes place on the Amazon Star, a mid-sized deluxe cruise boat with 31 cabins.
Prices from £2055 pp
Read more
Family holiday to south Tanzania & Zanzibar
Everybody we met, whether on Safari or in Zanzibar, went out of their way to ensure we had a really good time!