Costa Rica
Famed for its gentle climate, beautiful beaches and its unique and wonderful wildlife, Costa Rica truly is a little slice of paradise.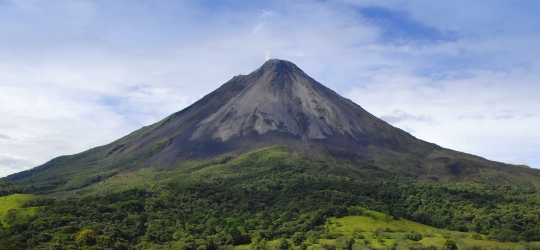 Costa Rica
Nestled between the Pacific Ocean and the Caribbean Sea, the small, compact country of Costa Rica presents a wealth of attractions out of all proportion to its modest size. Its coastline features dramatic peninsulas and bays as well as some of the most beautiful beaches in the Caribbean, while inland, various ecosystems combine to create dramatic landscapes and unique scenery.
Costa Rica's abundant wildlife is sure to delight animal-lovers. Turtles are perhaps the country's most famous attraction, with the turtle nesting season drawing many travellers to the coast every year. Other colourful species that call Costa Rica home include monkey, coati, sloth, deer, agouti and, if you are lucky enough to spot them, puma and jaguar! Costa Rica is world famous for its bird watching, with approx. 870 species to be found amongst its various habitats, including the resplendent quetzal. There are endless possibilities for wildlife holidays in Costa Rica.
For the more adventurous traveller, there are numerous activities on offer in Costa Rica that take advantage of the country's wonderful natural wilderness - its rainforests, volcanoes, rivers and waterfalls. Costa Rica is an ideal destination for enjoying a broad variety of pursuits, such as hiking, boat tours, river rafting, diving, kayaking, fishing, snorkelling and canopy tours. Let us help you plan an adventure holiday to Costa Rica.
You can choose from a wide range of accommodation in Costa Rica, including remote jungle lodges, romantic beach getaways, and the most luxurious five-star hotels and Costa Rican resorts. The cuisine is equally varied - and almost universally delicious!
Costa Rica is arguably the birthplace of ecotourism and it's refreshing to see the whole country, including hotels, lodges and operators, working together towards this common goal.
Come and explore Costa Rica, from the beautiful beaches to the highest canopies of the cloud- and rain-forests. We can design a Costa Rica holiday itinerary around your budget and interests. Contact us today to discuss your travel plans.
COSTA RICA AT A GLANCE
Costa Rica's dry season is from December to April, with slight regional variations.

Costa Rica is a compact country which makes travelling around easy; choose from self-drive, private or shared transfers and domestic flights.

Costa Rica has 26 National Parks as well as countless reserves and protected areas - the wildlife and birdlife is a prime attraction.

To see Green Turtles nesting, visit Tortuguero National Park from July to October. The Leatherback Turtle is visible at the Marino Las Baulas National Park from late October to mid-February.

Enjoy a wide range of activities including hiking, diving, river rafting, canopy tours, horse riding, cycling, sport fishing and much more.

Costa Rica is a renowned eco-tourism destination.
Example itineraries and information for: Costa Rica