Climb Mera Peak
We are one of the UK's leading mountain trek and climb operators. Contact us today to discuss your Mera Peak climb. We can help you organise everything from flights to optional porters, and provide expert advice on the best routes and climbing seasons.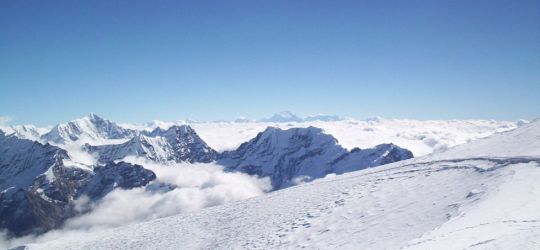 Climb Mera Peak
Standing at an altitude of 6,654m, Mera Peak is one of the highest non-technical peaks in Nepal. It is generally considered a trekking peak, though we include it among our list of climbing peaks because of the need for ice axe and crampons during the final approach to the summit.
There are a number of possible routes to Mera Peak, but the most popular by far departs from Lukla and approaches via the Hinku Valley. This challenging trekking itinerary enables you to explore Mera Peak and the Hinku Valley in depth. During the approach and from the summit of Mera Peak you can expect to have spectacular views across the Himalayan ranges, including the greatest of the Himalayan summits: Kanchenchunga, Nuptse, Lhotse, and Everest.
How tough is Mera Peak?

At almost 6,500m, Mera Peak is one of the highest trekking peaks in the world.
Our standard Mera Peak climb itinerary allows sufficient altitude acclimatisation time for any physically fit person to make a comfortable ascent. Though Mera Peak is several hundred meters higher than similar trekking peaks such as Cotopaxi and Kilimanjaro, the gradual ascent makes it quite approachable (there is a much shorter distance between high camp and the summit on Mera Peak than on Kilimanjaro, for instance). We often recommend Mera Peak as a great follow-up climb to Kilimanjaro for those climbers wanting to push themselves a little bit further and cross the 6,000m boundary.
When to climb Mera Peak?

The best seasons to climb Mera Peak are September to December and March to June. We strongly advise against travel outside of the main climbing season. Conditions towards the summit of Mera Peak can become very tough.
Mera Peak climb costs and further details

For more information on our Mera Peak climbs, please see our example itinerary and rates below, or contact us directly. Mera Peak combines well with Island Peak, as well as a number of other Himalayan peaks.
For more Nepal trekking itineraries, including Everest Base Camp and Annapurna Circuit, see our Trek Nepal pages.