Canada
Canada offers scenery on a vast scale, a diversity of wildlife and a wide choice of experiences for visitors to enjoy.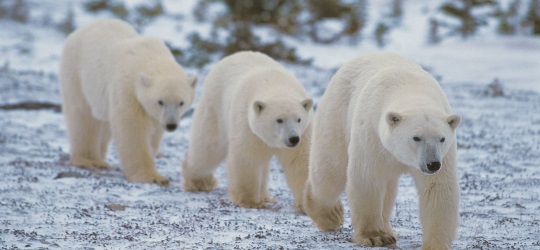 Canada
4,500 miles from coast to coast, Canada is the world's largest country after Russia. Within this vast territory is an abundance of wildlife and some of the most beautiful landscapes to be found anywhere in the world.
In the far north of the country you will find polar bears, caribou and wolves; in the Rocky Mountains, black bears, grizzly bears, moose, deer, elk, mountain goats and bighorn sheep; while on the western coast you can view grizzly bears fishing for salmon. And, wherever you are in Canada, if you're a keen twitcher you won't be dissapointed with either the resident or migrant birdlife.
Canada's climate is varied. The coastal regions have milder winters and cooler summers than the interior. November to March has sub-zero temperatures almost everywhere but all large Canadian towns are geared to cope with the cold conditions.
Grizzly Bears
British Columbia is prime grizzly bear territory. This is a wild and remote area defined by its dramatic snow-capped peaks and rugged coastline. The bear-viewing tours are based at Knight Inlet Lodge in Glendale Cove, which is home to one of the largest concentrations of grizzly bear in British Columbia. It is not unusual for up to 50 bears to be within 10kms of the lodge in peak season when the salmon are returning to the river!
•    Glendale Cove is one of the premier grizzly bear viewing spots in the world.
•    The lodge is open from mid-May to mid-October.
•    To see bears fishing for salmon visit from the end of August/September.
•    Depending on the time of year a wide variety of sea mammals can be seen. 
•    Impressive birdlife including bald eagles, making for an all-round great wildlife holiday.
Polar Bears
Exceptionally beautiful, polar bears are also incredibly powerful hunters. These are the largest land predators in the world with such an acute sense of smell they can locate seals under the ice! The current situation of a warming climate and melting ice sheet is affecting the Arctic ecosystems and threatening the Bears' future, which sadly means that now is the best time to see these kings of the north. The Canadian polar bear tours are well-managed and designed to be as eco-friendly and non-intrusive as possible.
•    Polar bear safaris operate during the months of October and November.
•    Our small group bear-viewing tours have only 15 passengers.
•    Complimentary boots and parkas are provided to all passengers.
For more information on our Canada holidays and bear-viewing tours, contact us.
Example itineraries and information for: Canada
Tweedsmuir is an attractive, family-style wilderness lodge nestled within Tweedsmuir Provincial Park, Bella Coola, BC. Constructed in the 1920s as a hunting lodge, it has since been renovated to accommodate those seeking out a more eco-friendly adventure, and now stands as one of the best grizzly bear-viewing locations in Canada.
Grizzly Bears in British Columbia
80 kms north of Campbell River in British Columbia is a wild and remote area of the Pacific Northwest known as Knight Inlet. As the longest fjord on the B.C. coast, Knight Inlet offers visitors spectacular scenery - and stunning opportunities for bear-watching.