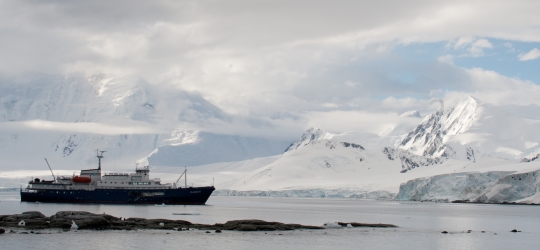 Antarctic Cruises
Gane and Marshall are agents for Hurtigruten Cruises and Oceanwide Expeditions, centres of excellence for cruises to the Arctic, the Norway fjords, and the Antarctic.
Journey to the last frontier on Earth - the vast, white expanse of Antarctica. Here you will be surprised at the abundance of wildlife that has made this harsh continent, the most remote on Earth, home.
The most popular Antarctic cruises vary in duration from 10 to 20 days and depart from Ushuaia, south Argentina, from November through to March. Shorter voyages visit the Antarctic Peninsula with its dramatic scenery of huge icebergs and glaciers and an abundance of tame wildlife, unaffected by human contact.
The longer voyages include visits to the Falkland Islands, South Georgia, South Orkney Islands as well as the Antarctic Peninsula. These Antarctic cruises combine history, scenery and wildlife – you will see the greatest concentration of Polar wildlife in the southern hemisphere, including the largest king penguin colonies on the planet!
For further information on our Antarctic Cruises, please contact us. We can offer the most competitive rates on all Hurtigruten and Oceanwide cruise programmes.

Example itineraries and information for: Antarctic Cruises
The Antarctic Peninsula consists of an 800 kilometres (500 miles) long mountain chain, the highest peaks rising to approximately 2,800 metres (9,186 feet), and numerous off-lying islands. This region offers the most dramatic scenery and biggest variety of wildlife in Antarctica. Visitors are overcome by the stunning scenery of glaciers, icebergs, Antarctic mountains, and the abundant and tame wildlife. This 10 day cruise itinerary follows a classic Antarctic route.
Falklands, South Georgia, and the Antarctic Peninsula
This comprehensive 20-day Antarctic cruise itinerary will give you the chance to explore the fjords, glaciers and snow-capped mountains of South Georgia, hike the rugged terrain of the Falkland Islands, and discover the spectacular scenery and Polar wildlife of the Antarctic Peninsula.
Explore the Weddell Sea and the Antarctic Peninsula in this 11-day cruise organised by Oceanwide Expeditions and sold by Gane and Marshall. During the course of the voyage, you will have the chance to land on the Antarctic Continent and visit an Emperor Penguin colony by helicopter.