Gorilla Tracking
Gorilla Tracking safaris and tours to Uganda, Rwanda and the Republic of Congo, including Bwindi, Mgahinga, and Virunga.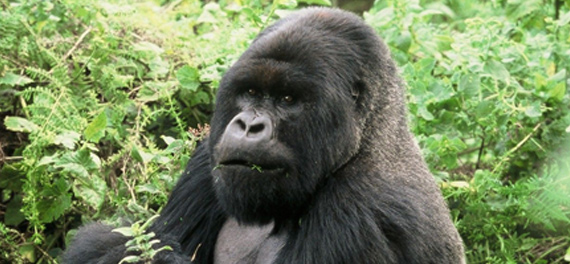 Gorilla Tracking
We organise mountain gorilla tracking safaris (small group and private) to Uganda, Rwanda and the Congo:
Gorilla tracking in Uganda

Uganda is a beautiful country of lush, bountiful rainforests and lakes that are home to a wide variety of wildlife, including a number of rare and endemic species - forest elephants, giant forest hogs, the Ugandan cob and the prehistoric shoebill stork, among others. The greatest attraction of all, however, are the 330 or so remaining mountain gorillas found in the country's two gorilla parks, Bwindi & Mgahinga, along with their close cousins, chimpanzees, and many other species of primate.
Of the two parks, Bwindi is the most accessible, and is home to four gorilla groups: the Habinyanja, Mubare, Rushegura and Nkuringo. The park is large and the gorilla families widely dispersed, meaning that gorilla tracking in Bwindi can require patience and stamina, but the effort is always well rewarded.
Gorilla tracking in Rwanda
Rwanda's Volcanoes National Park is extraordinarily beautiful and most famous for its brilliant gorilla tracking, often the highlight of any trip to Rwanda. It is also home to the magnificent Virunga Volcanic Mountains, whose dense high-altitude forests protect about half the world's remaining mountain gorillas.
Volcanoes National Park is only a short drive of approx. 2 hours from Rwanda's capital, Kigali, meaning that brief 2-day gorilla safaris to Rwanda are a possibility, though we generally recommend at least 3 days. The gorilla population in Volcanoes National Park is twice that of Bwindi, and the park size smaller, meaning that tracking in Rwanda is generally easier.
Gorilla tracking in the Republic of Congo
The Congo Basin is the second largest expanse of tropical rainforest in the world, and home to the Africa's largest population of western lowland gorillas. In the Republic of Congo we offer luxury private safaris into Odzala-Kokoua, one of Africa's most remote and wild National Parks.
To learn more about the different gorilla safaris available, see our example itineraries below or contact us directly. Whether you want to join one of our small group gorilla tours, or would prefer a private tailor-made option designed specially for you, we can help.