Polar Expeditions
North Pole and South Pole Expeditions organised by an expert polar team, with options to ski or fly to the North and South Poles.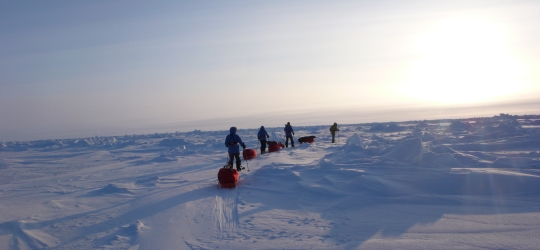 Polar Expeditions
North Pole and South Pole Expeditions

Ski the Last Degree to the North Pole
Follow in the footsteps of the great Polar explorers and journey to the top of the world - the North Pole. This is a once in a lifetime opportunity to set foot, where so few have before.
Our North Pole expeditions depart from Spitsbergen, in the Svalbard archipelago. From here we fly you to approximately 89 degrees North, where we begin the arduous journey across the pack ice to our goal, the geographic North Pole. This is a gruelling challenge. You will be required to haul a sled weighing in excess of 40kg for up to 10 days in extreme climatic conditions. But the extreme challenge makes this most unique of expeditions all the more rewarding.
The North Pole is accessible for only a very short window each year, between late March and late April. Our next expedition will take place in April 2016 and will be led by highly experienced Polar explorer Alan Chambers MBE.

The April 2015 widely reported headnorth North Pole expediton was led by Alan Chambers and project-managed by Gane and Marshall. Click here to see the photos and read the mblog.
South Pole challenge

The South Pole ski-in expeditions are organised with our partner Charity Challenge. Charity Challenge is one of the UK's only South Pole expedition organisers and Jeremy Gane was instrumental in setting up the first Charity Challenge Polar expeditions. Also on our team of consultants is leading polar explorer Alan Chambers MBE. Alan and Jeremy will help you plan and train for your Last Degree North Pole or South Pole challenge. 
For more information on our Polar expeditions, contact Jeremy on 01822-600-600
01822-600-600 or Jeremy@ganeandmarshall.com.