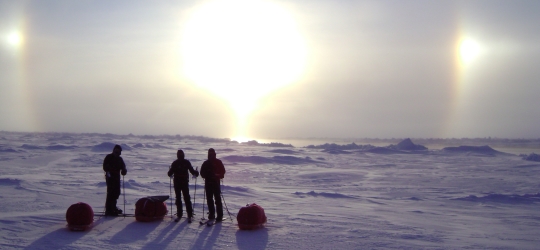 Arctic Adventure
Arctic and Antarctic Adventures
The polar regions have become much more accessible within the last two decades and offer plenty of fascinating holiday and adventure opportunities.
With Gane and Marshall you can: dog sled, snow mobile, and ski in the Arctic Circle; ski and sledge-haul the last degree to North or South Poles; and cruise the Arctic and the Norwegian Fjords or Antarctica. We offer both winter and summer programmes.
The climate remains as extreme as ever and so your tour or expedition must be carefully planned. Our team of experts includes Alan Chambers MBE, a leading polar explorer.
We work with several cruise operators, including Hurtigruten Cruises and Oceanwide Expeditions, as well as a number of smaller operators, and can help you secure the best available rates. For more information, see our dedicated Antarctic and Arctic Cruise pages.
Use the menu on the left to access our different Arctic and Antarctic programmes, or contact us directly for more information. Our staff has extensive experience of the region, have travelled to the Poles and know the cruise routes well – whether you're looking for a luxury cruise, a remote polar expedition, or a specialist wildlife holiday, we can help.