Trek Mount Kenya
Gane and Marshall offer Mt. Kenya treks and climb via Sirimon, Chogoria, and Burguret routes up to Point Lenana. Camping and Hut Options at places such as Shiptons. Book your Mount Kenya climb with Gane and Marshall today.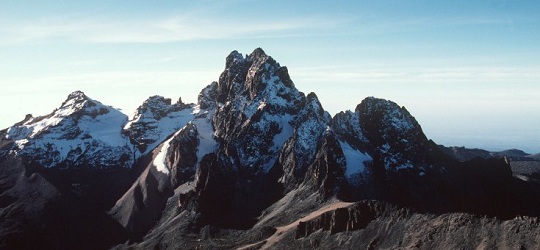 Trek Mount Kenya
Journey to the summit of Kenya's highest peak

Mount Kenya is Kenya's highest, and Africa's second highest, mountain. Straddling the equator, its white summit reaches 5,199m. Above the 3,200m contour, the mountain forms a national park consisting of three primary zones: the barren peak area, actually an eroded volcanic plug, with its mantle of (declining) glaciers and snowfields; the alpine zone with its giant lobelias and senecios; and the forested foothills, with bamboo jungle and rainforest similar to that found on other East African mountains, including Kilimanjaro and the Rwenzoris.
Many rivers flow from the perpetual snows, among them the mighty Tana, Kenya's largest and longest river and source of much of Kenya's electricity supply. Most visitors are content to marvel at the mountain's beauty but some will want to attempt to reach the peaks. The mountain's lesser peaks and glaciers can be scaled and walked by the fit and the adventurous.
Gane and Marshall, specialists in East African trekking holidays, invite you to join one of our Mt Kenya treks. We offer programmes to summit Lenana Point between 4 days and 8 days in duration. Our most successful short itinerary is the 5 days Sirimon-Chogoria Crossover. Another popular programme is the 8 days Combo offering a safari in Hell's Gate National Park, before climbing Mt Longonot overlooking the Rift Valley Lakes, and finally tackling Mt Kenya by the Sirimon-Chogoria Crossover.
When to climb Mount Kenya 
The ideal Mt Kenya climbing seasons are December to March and June to October.
You may want to climb Mt. Kenya when the moon is full or nearly full. Reaching your chosen peak in the period three or four days before or after full moon will still ensure a moon-lit climb. Contact us for more information on planning your climb to coincide with the full moon.
How tough is Mount Kenya?
The popular trek to Lenana Point (4,985m) is quite achievable, even for those with little experience of high altitude conditions or mountain trekking. Many first-time climbers treat Mt Kenya as a stepping stone towards an attempt on Kilimanjaro - an ambition no doubt fuelled by the stunning views of Kilimanjaro available from Lenana Point! (For those with enough time, tackling Mt Kenya and Kilimanjaro together in the course of a single itinerary can make for a great combination, with the altitude acclimatisation gained from the trek to Lenana Point greatly boosting your fitness for Kilimanjaro.)
The last 200+ metres required to reach Mt Kenya's summit at 5,199m is a technical climb suitable for experienced climbers only. Our staff have experience of both Batian and Nelion routes to the summit and can help you plan your technical climb. Contact us for more information.
How much does it cost?
Prices start from approx. £1,000 for a full guided and portered climb with mountain transfers. For the full range of routes and rates go to Mount Kenya Trekking Routes and Rates Chart (for technical climbs, please contact us for rates tailored to your group size)
Our sales team will help you plan your climb and, if requested, a safari or beach extension to follow the exertions of the mountain trek. We offer competitive packages combining climb and a safari/beach extension. Contact us for more information.
Example itineraries and information for: Trek Mount Kenya
Mt Kenya with Hells Gate Safari and Longonot climb 7dys
The programme is our most popular Mt. Kenya departure. It packs in Hells Gate and Longonot overlooking the Rift Valley Lakes, but still leaves time for acclimatisation and a chance to scramble to the remote outposts of Terere and Sendeo before trekking to Point Lenana on the magnificent Mt.Kenya.
Mt Kenya Burguret Wilderness Route 6dys
The Mt Kenya Burguret Wilderness Route route was pioneered during colonial days and then abandoned for many years until it was re-opened it in the early 90s. Gane and Marshall are one of the very few companies to have the right to use this route.
Mt Kenya Sirimon Chogoria Traverse 5 days
This is a classic trek to Mount Kenya, which combines two of the most splendid routes on the mountain. Using one of the gentlest ascent trails to the peaks and with an extra acclimatization day included at 4,200m, it has a huge summit success record.
Mount Kenya Routes and Rates, covering Sirimon, Chogoria and Burguret routes to Point Lenana.