Climb Aconcagua
Gane and Marshall are one of the UK's leading mountain trek and climb operators. Contact us today to discuss your Aconcagua climb. We can help you organise everything from flights to optional porters, and provide expert advice on the best routes and climbing seasons.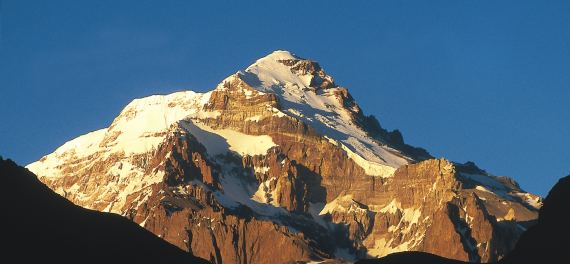 Climb Aconcagua
Trekking and Climbing on Aconcagua, Argentina
Visiting Argentina gives the visitor the chance to see not only the awesome Andes but also the vineyards of Mendoza, the big and bustling capital of Buenos Aires, and to enjoy time in the lake district, on the coast or in Patagonia.
More significantly, Argentina is home to Aconcagua, America's highest mountain and the world's highest non-technical trekking peak.
What and where is Aconcagua?
At 6965m high, Aconcagua is not only the highest mountain in the southern and western hemispheres, it is also the 2nd highest of the famous "Seven Continental Summits", second only to Mt Everest. An extinct volcano, it towers in the southern Andes of Argentina, not far from the Chilean border, its upper slopes continuously covered with snow.
How tough is Aconcagua?
This is the longest, highest, and toughest challenge in our portfolio. To join this expedition participants must be prepared for extreme conditions, and should be exceptionally fit both physically and mentally. Stamina and determination are listed as essential on your kit list!
PORTERS ON ACONCAGUA. Porters are available for an extra charge on all of our routes. This is a costly extra and you should try to be fit enough to carry your own equipment expedition-style. If for a particular reason such as back problems you really do need a porter, then please get in touch for approximate rates.
Aconcagua climb routes
The Ameghino route which approaches via Vacas-Relinchos Valley offers the most gradual ascent between base camp and the high camps. The route also offers an un-hurried acclimatization for a safer and more comfortable climb, and a rate of success not possible on other routes. You will make a traverse of the mountain and experience its entire character. Your route towards base camp is natural and not very busy, and it is common to see guanacos, abundant vegetation, small springs of water and huge glaciers - in short, an extraordinarily beautiful Andean environment. Porter hire is possible on the Vacas-Relinchos Valley Route.
For those who want the direct Normal route, we also offer this route and again with options to hire porters. Aconcagua's Normal Route is cheaper, but more crowded.
Further details
For further details and prices please see the Aconcagua climb itineraries and fact files listed below. Feel free to contact our office and speak to Jeremy Gane, who has experienced the Vacas-Relinchos Route.