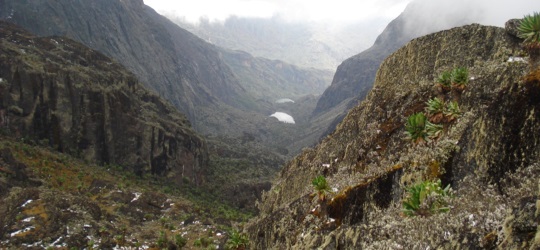 Trek the Rwenzori
Introduction to the Rwenzori Mountains

Undoubtedly one of Africa's most beautiful and dramatic natural environments, the Rwenzoris, or 'Mountains of the Moon', are also among its least visited. They offer an example of nature at its most wild and untamed, totally untouched by industry or human habitation, and teeming with life. Indeed, the word 'prehistoric' often features in descriptions of the Rwenzori Mountains, owing to the rich and varied vegetation that populates the range, from dense rain and bamboo forests, to valleys of giant heathers and lobelias. Much of the vegetation is endemic to the region and cannot be seen anywhere else, for which reason the Rwenzoris are now a protected World Heritage Site.
Wild and remote, the Rwenzori Mountains provide a tough but rewarding trekking environment. Due to the low number of visitors, the few trails that exist into the mountains are not at all well-trodden. Prospective trekkers should be forewarned that the weather and terrain can make proceedings difficult if they are not well-prepared. The rewards, however, in the form of the unique and beautiful scenery, will more than compensate your efforts.
Our Rwenzori itineraries cater to both capable mountaineers and less-experienced walkers. Whether you want to conquer Africa's third highest mountain with an attempt on Margherita Peak, or simply take in the dramatic scenery en route to Weismann's Peak, our Rwenzori trekking itineraries will take you deep into these unforgettable mountains.
(For a climb to Margherita Peak, see our dedicated Mt. Stanley page under Adventure Climbing)
When to travel?
The Rwenzori massif is characterised by heavy rainfalls, which can make for difficult trekking conditions. The dry season is during the months June-August and December-February, but even during these months you should come prepared for the possibility of heavy rainfall.
How much does it cost?

See our Price Guide
How do I book?

Contact us today to plan your Rwenzori trekking holiday. We offer competitive rates for both individual and group bookings.
Example itineraries and information for: Trek the Rwenzori
Explore the fascinating Rwenzori massif in this 8 day trek to Mt Baker via the Kilembe Trail
Trek the Kilembe Trail to Weismann Peak. This is a short, 6-day trek offering a wonderful introduction to the Rwenzoris.
This short 3-day trek into the Rwenzoris follows an easy circuit route, which takes you through the rainforest and bamboo zones at the foot of the mountains, to the giant heather and heath of the Alpine zone.
Rwenzori 2017 trek and climb rates, covering Mt Stanley, Mt Baker and Weismann's Peak.