Kenya Beach Holidays
Mainland Coast, Mombasa, Lamu and surrounding islands
Back to Kenya
Kenya Beach Holidays
For an African beach holiday to remember, look no further than Kenya. The original home of the safari is also one of Africa's greatest beach destinations.
Kenya Safari
Faultless. At all three camps the service was faultless and the staff leaned over backwards to help us.
Featured itineraries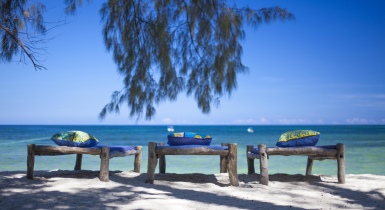 Kenya Luxury Beach Escape (Kinondo Kwetu)
Luxury beach escape to Diani Beach, on the mainland Kenyan coast, for 7 nights at the upmarket, owner-run lodge Kinondo Kwetu.
Experience
Honeymoons and Weddings
Beach Holidays
Prices from £2600 pp
Read more
Kenya in Style
Escape the crowds and experience Kenya at its most wild and remote on this 9-day luxury safari and beach holiday visiting the private Mara North Conservancy in the Masai Mara and the upmarket luxury beach lodge, Ocean Spa, on the southern Kenyan coast.
Experience
Beach Holidays
Safari and Wildlife Holidays
Honeymoons and Weddings
Prices from £3100 pp
Read more
Accommodation
Kilimanjaro Report
From the moment we arrived, we were taken care of.