Bazaruto Archipelago and Vilanculos
Mozambique
Back to Mozambique
Bazaruto Archipelago and Vilanculos
The Bazaruto archipelago is one of the most popular and iconic destinations in Mozambique. Strings of islands with pristine, palm-fringed beaches lie scattered in this beautiful part of the Indian Ocean, which attracts water sports enthusiasts, safari-goers and beach lovers alike.
Sossusvlei, Damaraland and Etosha
Everyone had time for us whether it was in a bank or a restaurant and that is very humbling.
Accommodation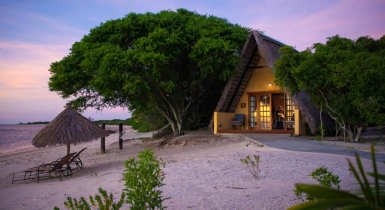 Bazaruto Lodge
Bazaruto Island Lodge is a comfortable 4-star beach retreat, perfectly situated to allow you to relax or to enjoy the best of the many activities available on Bazaruto Island.
Read more
Chimp-tracking in Mahale
The baby chimp eyed me casually while sucking on his closely clutched straw, as I looked at him in amazement.