Lewa Wildlife Conservancy
Kenya
Back to Kenya
Lewa Wildlife Conservancy
The Lewa Wildlife Conservancy is a private reserve in north-eastern Kenya, on the eastern edge of the Laikipia Plateau. One of Kenya's best private conservancies, it is home to a number of endangered species including rhino, and accommodates only a limited number of visitors.
Loisaba Safari (Kenya)
The whole trip went wonderfully and we would definitely recommend Loisaba.
Featured itineraries
Mount Kenya 360 Degrees Mountain Bike Safari
Circumnavigate the base of Mount Kenya on this new low-impact cycling itinerary. On this 7-day programme (6 days riding), you'll follow a newly-established cycle route which avoids the busy highways and populous town centres in favour of the Kenyan countryside and tribal regions. The terrain varies from rainforest to dry savannah and on to the lush farmlands on the eastern slopes of the mountain, where you'll pass through small rural communities.
Destination
Kenya
Mt Kenya Bike Safari
Experience
Biking Holidays
Group Travel
Prices from £1948 pp
Read more
Accommodation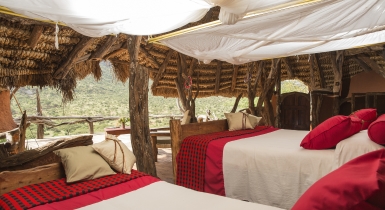 Il Ngwesi
Il Ngwesi is a Maasai-run eco-lodge situated in a community concession in Lewa, eastern Laikipia. The lodge is built entirely from locally-sourced materials and, when it opened in the mid-90s, was amongst the first lodges in Kenya to be run largely on solar energy and strong eco-principles. Those principles continue to guide the camp, which remains one of Kenya's most renowned eco-lodges.
Read more
Ethiopia, Rwanda and Kenya
Thank you for arranging such a memorable holiday again, and doing it with efficiency and patience.