Back to Ethiopia
Gondar
Gondar, formerly the royal capital of Ethiopia from 1666 to 1864, was founded by Emperor Fasiladas in 1635. The town is famous for its many medieval castles and churches. The oldest of these structures are located in the 15th-century Royal Enclosure built by Fasiladas.
Ethiopia, Rwanda and Kenya
Thank you for arranging such a memorable holiday again, and doing it with efficiency and patience.
Accommodation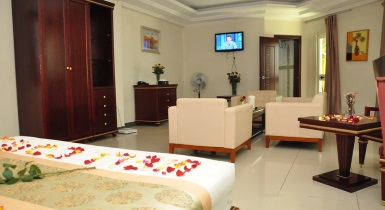 Florida International Hotel
Florida International is a comfortable four-star hotel in Gondar. There are more characterful properties in and around Gondar, but the Florida is well-located for those looking to explore the city.
Read more
Acclimatising safari helps Kelly Katcher summit Kilimanjaro
[Kilimanjaro] was one of the most difficult things I've ever done, and will probably be the most memorable.