African Riding Safaris
Riding safaris give you the chance to combine a love for horses with a great safari experience. Few safari experiences rival that of galloping next to a herd of Wildebeest and Zebra on the Serengeti Plains, or even just a gentle canter on a white sandy beach.
A wonderful time in Costa Rica
I had a wonderful time in Costa Rica so BIG THANK YOU... I couldn't fault it if I tried!
Itineraries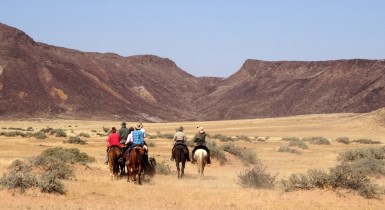 Damaraland Riding Safari
This is an exhilarating small group riding safari through some of the most dramatic landscapes in southern Africa. You will ride well off the beaten track as you explore the rugged terrain of Damaraland and the Skeleton Coast. Your ride starts along the Aba Huab Riverbed and continues on to the coastal plains. At the end of each day, after a delicious meal, you will climb into your camp bed and fall asleep under the magnificent star-lit skies of Africa.
Experience
Safari and Wildlife Holidays
Group Travel
Prices from £4740 pp
Read more