Back to Namibia
Skeleton Coast
The Skeleton Coast is a stretch of coast in northern Namibia, famous for the numerous skeletal shipwrecks embedded in the shores and the almost inhospitable, yet incredibly beautiful, desert that surrounds them. We organise fly-in safaris to the Skeleton Coast - using light aircraft to hop around you will spend each night in a different area at small permanent camps.
Namibia Safari with Self Drive
We do not have enough superlatives that we can use to express how wonderful the last three weeks have been.
Featured itineraries
Safaris, Skeletons & Shipwrecks
Starting in Windhoek, you'll journey north-west through the wild, semi-desert terrain of Damaraland and Kaokoland to reach the remote Hoanib Valley. Here you'll spend three days at the fabulous Hoanib Valley Camp, looking for the rare desert-adapted elephant amid towering mountains, vast dunes and huge expanses of desert. From Hoanib Valley, you continue west to the starkly beautiful Skeleton Coast, before returning to Windhoek via Okonjima.
Experience
Safari and Wildlife Holidays
Family Travel
Prices from £5768 pp
Read more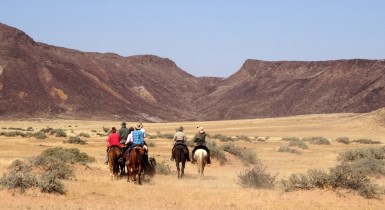 Damaraland Riding Safari
This is an exhilarating small group riding safari through some of the most dramatic landscapes in southern Africa. You will ride well off the beaten track as you explore the rugged terrain of Damaraland and the Skeleton Coast. Your ride starts along the Aba Huab Riverbed and continues on to the coastal plains. At the end of each day, after a delicious meal, you will climb into your camp bed and fall asleep under the magnificent star-lit skies of Africa.
Experience
Safari and Wildlife Holidays
Group Travel
Prices from £4150 pp
Read more
Accommodation
Zambia safari
All your arrangements worked perfectly... Thanks again for your efforts to give us a very memorable trip.