Back to Namibia
Skeleton Coast
The Skeleton Coast is a stretch of coast in northern Namibia, famous for the numerous skeletal shipwrecks embedded in the shores and the almost inhospitable, yet incredibly beautiful, desert that surrounds them. We organise fly-in safaris to the Skeleton Coast - using light aircraft to hop around you will spend each night in a different area at small permanent camps.
Namibia self-drive holiday
A superb, exciting and absolutely enjoyable trip! ...Every day brought a new adventure.
Accommodation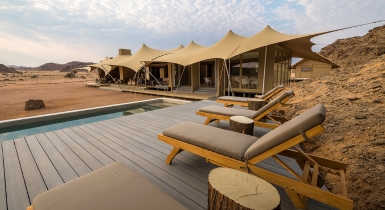 Hoanib Skeleton Coast Camp
Hoanib Skeleton Coast Camp is an upmarket camp from Wilderness Safaris, opened in August 2014 in place of the now-closed Skeleton Coast Camp.
Read more
Wildlife adventure in Madagascar
Our trip was wonderful. The hotels you chose for us were really wonderful and in charming locations.