Uyuni and the Southern Altiplano
Bolivia
Back to Bolivia
Salar de Uyuni and the Southern Altiplano
At over 10,500sq km, Uyuni feels like another world, its miles of stunning white salt flats, interspersed by strangely-hued lagoons and isolated cacti, creating an alien, Dali-esque environment.
Kilimanjaro climb
Jeremy's passion, knowledge and experience of Kilimanjaro is second to none... outstanding.
Featured itineraries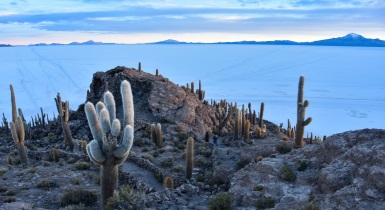 Highlights of Bolivia
Explore the scenic and cultural highlights of Bolvia on this 11-day overview. Starting in Santa Cruz, in Bolivia's tropical lowlands, you'll journey over the Andes to the altiplano and on to the world's highest capital city, La Paz.
Experience
Cultural Holidays
Family Travel
Prices from £2650 pp
Read more
Father and Son at the summit of Kilimanjaro
Everything went according to plan, in fact there wasn't a single hitch, so well done for that!