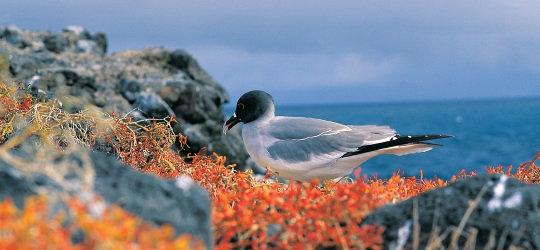 Explore the Galapagos
If you enjoy close wildlife encounters then look no further than the Galapagos Islands where the wildlife will be as interested in you, as you are in it! These islands have to be one of the world's greatest natural history destinations.
The archipelago was borne of undersea volcanic activity and was named after one of its most iconic creatures, the giant Galapagos tortoise. Many of the animals you will find on the Galapagos Islands have never been hunted by man and thus show no fear of people. This allows for unique close encounter wildlife experiences that are rare in today's world.
Most visitors to the Galapagos choose to cruise around the islands and take part in short excursions with a naturalist guide, who can explain the fascinating geology and history of the archipelago. There are opportunities to walk along nature trails, swim, snorkel, dive, photograph, and observe the wide variety of wildlife on each island. You can swim with sea lions, walk amongst the black marine iguanas basking in the sun, and observe the beautiful albatross or male frigate birds, displaying their red pouches… the list of unique wildlife experiences available in the Galapagos is almost endless.
If you prefer an adventurous holiday, why not canoe around the islands! Alternatively, for those who like to stay on dry land, there is the Finch Bay Eco Hotel, where you can enjoy day trips out onto the islands before returning to the lodge each evening.
The Galapagos Islands are just one region of Ecuador so why not consider including in your itinerary the magical Amazon rainforest, amazing volcanoes and charming Colonial cities. Ask us for suggestions.
For more information telephone 01822-600-600 or email Gane and Marshall
Example itineraries in Explore the Galapagos
Explore the best of the Eastern Galapagos Islands on this 5 day / 4 night cruise taking in San Cristobal, Santa Fe, South Plaza, Espanola Island and Santa Cruz Islands. You sail on the M/V Santa Cruz.