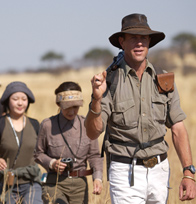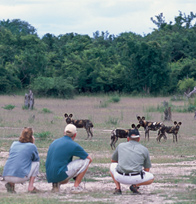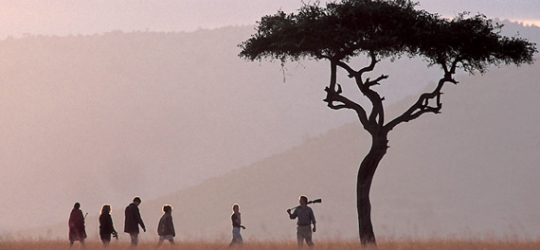 Walking Safaris
Walking safaris are one of the most rewarding ways to experience the African bush. They offer you the chance to see not just the larger mammals, but also the insects, reptiles, plants and trees that are often ignored on faster-paced game drives. Walking safaris can either be a short walk from the camp or lodge where you stay to a multiple day safari with camping. Most lodges in Southern and East Africa offer at least short morning walks, while many also offer extended fly-camping based walking safaris.
In Tanzania, Katavi National Park is one of several national parks where walking, accompanied by armed rangers, is possible. The Selous Game Reserve also allows for walking safaris, with many camps taking you on short walks of one or two hours at a time. There are also vehicle supported fly camping trips available which typically last from one or two nights to several days. Sand Rivers Camp, for instance, offers an excellent 5 day safari with weekly set departures.
You can also walk in the Rift Valley Masai lands of Tanzania, Ngorongoro Crater Highlands as well as Loliondo, and in the Greater Serengeti ecosystem and Tarangire National Park. Try our Tanzania Light Mobile Safaris for low cost walking in North Tanzania, or see our Journey with the Maasai itinerary.
Zambia is sometimes thought of as the home of the walking home, and with good reason; the South Luangwa National Park offers excellent, organised walking safaris accompanied by trackers.
We offer a number of walks in Namibia, in the NamibRand Reserve and elsewhere, focusing on the dunes and the desert-adapted wildlife.
In South Africa, Ngala Game Reserve, near Kruger National Park and Phinda Resource Reserve, both offer excellent 4 day walking safari options. Contact us for more information.