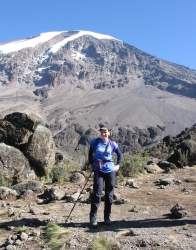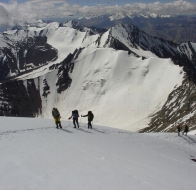 Trekking and Climbing
Gane and Marshall is an experienced provider of mountain treks and climbs worldwide. We began in 1991 as an outfit specialising in Kilimanjaro climbs, and trekking and climbing holidays have remained a central part of what we do ever since.
We offer a range of treks and climbs catering to all abilities, from short, easy walking holidays designed for novice trekkers, to tough, fully-supported high altitude mountain climbs for more experienced climbers. See below for an outline of the trips we offer.
Most of our trips are offered as private, tailor-made tours. However we do offer a number of fixed-date small group trekking holidays each year. These are a great option for lone travellers wishing to meet and trek with others. See our group departures pages for more information.
All Gane and Marshall trekking holidays are overseen by Jeremy Gane. Jeremy has over 20 years experience in organising climbing and trekking holidays, and can help you plan the perfect trip from the ground up. Contact Jeremy@ganeandmarshall.com today to discuss your travel plans.
Trekking and climbing holidays by destination:
On the African continent we specialise in treks in East Africa to Kilimanjaro, Meru, Mt. Kenya, the Simien Mountains, Rwenzoris, and in South Africa to the Drakensberg.
In the Himalayas we offer a variety of treks and climbs in Nepal and India, including Everest and Annapurna Base Camps, Mera Peak, the Markha Valley Trail and Stok Kangri, Ladakh.
In South America we organise climbs in Ecuador and of course the second highest of the continental summits, Aconcagua. We also offer the Inca Trail in Peru.
A selection of our trekking itineraries is provided below. For more information on our treks and climbs, please see our Adventure pages.
Gane and Marshall operate to the highest safety standards. We are fully ATOL-licensed, members of the Institute of Mountain Medicine, and approved partners of IMEC. We have been involved in the adventure travel market for over 20 years, during which time we have helped organise a number of high-profile events. In 2009, Jeremy Gane was appointed consultant, project manager and tour leader for the Comic Relief celebrity climb of Kilimanjaro, which included in the party Chris Moyles, Gary Barlow, Cheryl Cole and many other celebrities. More recently, Jeremy has managed the Extreme Classroom series of events, as filmed by the BBC.
Example itineraries for Trekking and Climbing
Rongai Seven Days Kilimanjaro Climb via Second Cave and Mawenzi Tarn, going for Uhuru Peak through Gilmans Point and descending on the Marangu Route.
Mt Kenya with Hells Gate Safari and Longonot climb 7dys
The programme is our most popular Mt. Kenya departure. It packs in Hells Gate and Longonot overlooking the Rift Valley Lakes, but still leaves time for acclimatisation and a chance to scramble to the remote outposts of Terere and Sendeo before trekking to Point Lenana on the magnificent Mt.Kenya.
Trek through the Sagarmatha National Park to the base camp of the world's highest mountain, Everest, in this most popular of Nepal trekking itineraries. You will begin your journey in Kathmandu, flying to Lukla and then journeying along the Khumbu trail, passing Tok Tok, Namche Bazaar, and Dingboche before reaching your goal at Everest Base Camp. Those looking for an extra challenge have the option to take on Kala Patthar.
Simien Mountains Full Trek with Historic Route
A full Simien Mountains trek to remote parts of the Ethiopian Highlands. This Ethiopia trekking tour includes as standard some aspects of the Historic Route: Gondar, Lalibela and Addis. You may extend the trip to add more elements, for instance Axum, the Rift Valley Lakes, Omo Valley, or Bale Mountains.
Ascend Aconcagua, America's highest mountain, via the lesser-travelled Vacas Valley route, in this 18-day itinerary designed to maximise acclimatisation time.
Nepal in Comfort - Luxury Trekking Routes and Rates
Our Nepal comfort treks are a luxury lodge-based alternative to traditional camping treks. These are mostly gentle trekking programs in which you are accommodated in comfortable, heated lodges and en-suite guesthouses. For the leisurely traveller who is looking to explore the beauty of the Nepali Himalayas but is put off by the Spartan conditions associated with traditional camping-based treks, our comfort treks provide the ideal alternative.