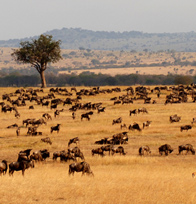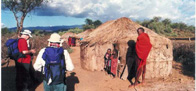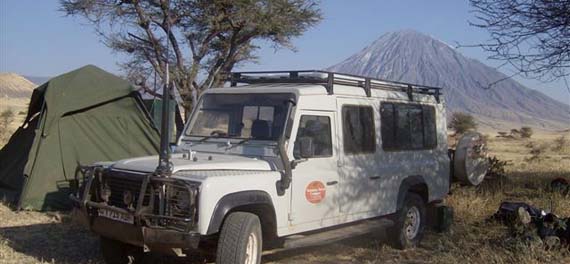 Light Mobile Safari
Our North Tanzania and Kenya light mobile safaris are among the most economic and exclusive ways of exploring the safari parks of East Africa. A more flexible alternative to fixed camp and lodge safaris, they allow you a great deal of freedom to travel off-the-beaten-track and at your own pace.
We offer low-cost mobile safaris using a combination of public camps and lodges, as well as much more exclusive itineraries using only private camps, allowing you to explore the wilds of Kenya and Tanzania in total privacy. Additional options include guided walking safaris, such as our Into the Maasai Lands itinerary.

To learn more about our light mobile safari programmes, including client testimonials, see our Light Mobile Safaris Information file or contact our office. We have also provided some example itineraries and costs in the menu at the bottom of this page. Please note that there are many other possibilities beyond those outlined - the great thing about light mobile safaris, after all, is their flexibility!
New mobile safaris to Botswana taking in the best of the country's northern game parks.

Why choose a light mobile safari?
Flexibility - Light mobile safaris are much more flexible than traditional safaris, in terms of where you can travel and at what pace. You will be visiting the same safari parks, but you will have a great deal of freedom to travel off-the-beaten-track and escape the crowds. It is also easy to combine light mobile camps with fixed camps and lodges.
Privacy - With a light mobile safari you have the option of using designated public camps or private camps, depending on your preferences.
Affordability - Mobile safaris are among the most affordable safaris. The mobile camp facilities are of course relatively basic when compared to top-end safari lodges, but they compare favourably with many traditional fixed camps. Luxury mobile safaris are also an option.
Family-friendly - Many, though not all, fixed safari camps and lodges have strict child policies, with restricted options for families with young children in many safari destinations. Light mobile safaris, on the other hand, offer a safe, adventurous safari option for families with children. 
Contact us to discuss a tailor-made light mobile safari designed especially for you. We have over 20 years experience of organising mobile safaris in East Africa, and can help you plan the perfect itinerary.

Example itineraries for Light Mobile Safari
Tribes and Wildlife of Northern Tanzania
Light mobile safari with driven and walking components, incorporating the Northern Circuit (Tarangire, Serengeti, Ngorongoro and Manyara), along with elements of our Into the Maasai Lands itinerary.
North Tanzania Light Mobile Safari
Explore Tanzania's famous Northern Circuit, including the Serengeti, Lake Manyara, Tarangire, and the Crater Highlands, in this 6-night light mobile safari. Includes options for public and private campsites.
Light mobile safari in Tanzania visiting the Serengeti, Ngorongoro Crater and Lake Manyara during the festive period.
North Tanzania Light Mobile Safari general information pack, including example costs, programmes and testimonials.