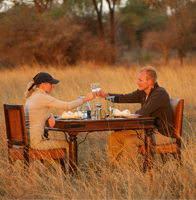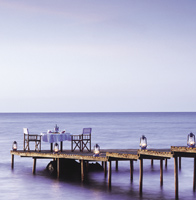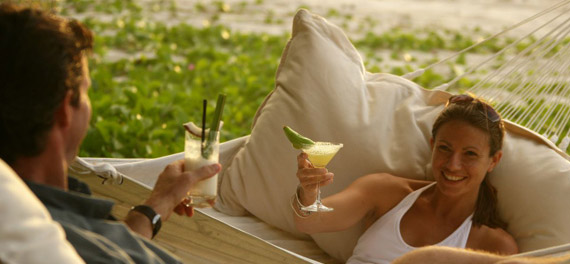 Honeymoons
Planning Your Honeymoon
Whether you are on honeymoon, celebrating your wedding anniversary or civil partnership, or looking for a secluded getaway, you will find some of the most romantic places on earth in Africa and off the Indian Ocean. Nothing can rival a sunset on the wide African horizon, or sailing on a dhow offshore from your tropical palm-fringed beach.

We appreciate that this is the most important holiday you are likely to plan and that expectations are high. We will take the time to really discuss your plans and understand your aspirations to ensure your honeymoon more than exceeds your highest wishes. We can offer excellent combination of safari destinations and beach retreats.

When planning the honeymoon also consider the activities that you would like to do; whether you want to canoe, walk or ride or just relax on a palm-fringed beach. Styles of accommodation also vary widely: there are lodges, tented camps and hotels to choose from. Most of these are small, catering for up to 20 people at a time. It is also useful for us to know if there is anything specific you would like to see; for instance, big game safari, a particular tropical hideaway or a geographical region you have always wanted to visit.

The time of year you plan to marry will also dictate where we suggest you go. In our summer and autumn, you can pretty much pick your destination, but during the winter and spring we may advise either Southern or East Africa to make the most of weather and game movements.
Paying for Your Honeymoon with our Honeymoon Contributions Service

We offer an exclusive service enabling you to put Honeymoon Contributions on your wedding list. In this way friends and family may contribute to your honeymoon costs. We also create a web page dedicated to your honeymoon, and the web page is personalised with your names, a few lines of message text and an image chosen by you. Family and friends can go to that page to find out how to contribute towards your honyemoon.
Going Forward
Now that you are actively thinking of your honeymoon and perhaps considering using our voucher service to cover your costs, it's time to get in touch with Gane and Marshall.
Email info@ganeandmarshall.com
Telephone 01822-600-600