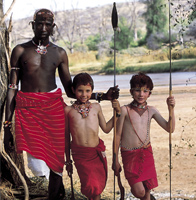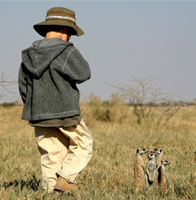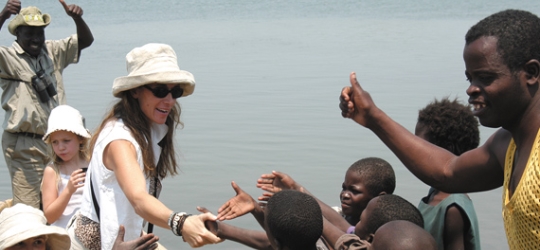 Family Travel
Gane and Marshall provide safe, varied, and exciting family holidays to Africa. Our expertise will enable you to choose the right holiday for your family.
More and more top safari camps are now catering for families and have introduced specialist guides, private vehicles, interconnecting rooms, early meal times and baby sitters. Holidays for the adventurous family, with young and teenage children, are a speciality of Gane and Marshall.
Family holidays require the most careful thought and planning, and that's where we come in. Organised properly and with consideration of the ages and interests of the family members, your family safari will be a truly wonderful holiday.
The ages of children will dictate to a certain extent the type of African family holiday we would suggest. With younger children there are a number of excellent family-orientated lodges in Kenya, as well as the option for adventurous mobile camping safaris.
In Tanzania we offer a unique and memorable light mobile family safari for those families with a taste for adventure. See our clients' feedback pages to read about the itinerary we prepared for the Black family, who planned with us a very special family holiday to North Tanzania. There they stayed in their own private wilderness camp in Serengeti, walked in the hills around Ngorongoro Crater, and met with the local Maasai; all this before venturing to Zanzibar for snorkelling and beach relaxation. We can arrange a similar programme for your family.
Learn more about our Light Mobile Safaris in our Tanzania safari portfolio.
Zambia, with some lovely private houses, is also beginning to open up to the family market. As with Tanzania, there are also excellent opportunities for private mobile camping safaris, for which Botswana is famous.
For those travelling with teenagers, some time in the Livingstone area with all the activities on offer around the Victoria Falls is a good choice. Cape Town with its great beaches and stunning scenery should also appeal.
South Africa offers a number of malaria free camps in good game viewing areas for those wishing to travel without having to take malaria prophylactics.
When planning your family holiday, we will ask whether you want to see anything specific - wildlife, birds or cultural sites - and the type of accommodation that you prefer - hotel, tented or lodge. It is also useful to know what style of holiday you enjoy as a family and the sorts of activities you want to participate in - do you want a beach or safari holiday, or a combination of the two. For beach lovers, there are many wonderful properties along the African coast, nearly all of which welcome families.
Our experience of organising family safaris, adventure and beach holidays goes back over 20 years. Contact us today to discuss your African family holiday.