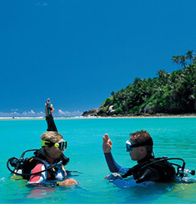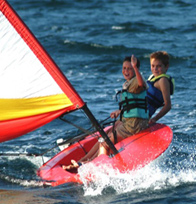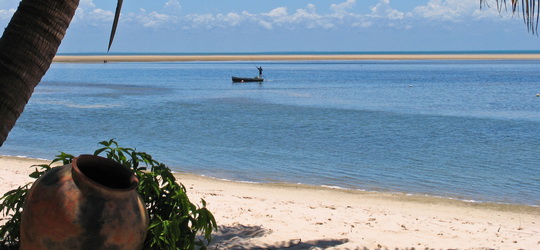 Beach and Surf
African beach holidays with Gane and Marshall

The African Coast and its Indian Ocean Islands offer some of the most beautiful beaches in the world. Gane and Marshall can arrange all types of beach accommodation from small simple guesthouses such as Matemwe and Pongwe on Zanzibar's beautiful east coast, to the wonderfully grand Arabic style Baraza with its incredible spa, and the supremely beautiful North Island in Seychelles – a private island that is so chic it has won countless awards. If you like to add a bit of excitement to your sunbathing consider the wonderful Greystokes Camp in Mahale National Park, Tanzania, where you can combine chimp watching with snorkelling and sunbathing. Wildlife viewing also combines effortlessly with beach relaxation in Madagascar, where the beaches and wilderness reserves frequently overlap.
For those looking to relax on the beach following a busy safari or trekking itinerary, East and South Africa offer a number of conveniently located resorts that can fit in well with most itineraries. Easily accessible mainland leisure spots such as Mombasa in Kenya and Pangani in Tanzania are on offer as well as the well known island resorts of Zanzibar, Pemba, Lamu. For those willing to travel a bit further, the Seychelles and Mozambique archipelagos are perhaps the best locations in all of Africa for beach holidays, boasting some of the world's finest beaches.
Contact us today to discuss your perfect African beach holiday.
African beach holiday destination guide
Kenya is justly famous for its wild savannah, but it also boasts another natural asset, and that is its Indian Ocean coastline, with its many miles of beautiful palm-fringed beach and its rich Swahili culture. From the calm waters of Mombasa to the beautiful island retreat of Lamu, the oldest and best-preserved Swahili settlement in Africa, Kenya offers a range of options for beachgoers wanting to mix wildlife and culture with relaxation! Read more about our Kenya beach holidays.
Madagascar is a wonderful destination for those who want a more active beach holiday, with excellent options for water sports, diving and wildlife-viewing. Relatively underdeveloped by African standards, Madagascar mostly lacks the luxury resorts of Zanzibar, Mozambique and Seychelles, but it makes up for it with its beautiful, pristine beaches, many of which also function as wildlife sanctuaries. Learn more about our beach and wildlife holidays to Madagascar.
Malawi may be landlocked but that doesn't prevent it from having some of the most beautiful beaches in Africa. Malawi's main attraction is of course its enormous freshwater lake (the third largest in Africa), Lake Malawi, with its beautiful beaches and clear water. Many head to its shores to dive and enjoy the great water sports (sailing, wakeboarding, and parasailing, among others), or just to relax on the beach. The resorts and guesthouses on Lake Malawi tend to be small, personal and modest, though there are a number of beautiful boutique hotels. Learn more about Malawai beach holidays.
Mozambique is one of Africa's finest beach retreats, popular with honeymooners and romantic couples seeking an intimate retreat. A long and narrow country dominated by its Indian Ocean coastline, Mozambique offers the clean, white sand beaches and luxury accommodations that one expects of a premier beach destination, but what really sets it apart is its exclusivity. A week spent at leisure on one of Mozambique's many private island resorts is an experience to remember. For those who prefer to be more mobile, a island hopping tour combining private beach camps with luxury lodges is another wonderful option. See our Mozambique holiday pages for more.
Boasting what many consider to be Africa's very finest beaches, the 115 islands that comprise the Seychelles archipelago are the ultimate beach retreat. Like Mozambique, the emphasis in Seychelles is on privacy; the country is famous for its exclusive island retreats. Not all of the islands in the archipelago offer accommodation, but each has its own unique character, geography and history, and to really get the most out of your time in the Seychelles you should be prepared for a spot of island-hopping! We can help you access the best of the Seychelles. See our dedicated Seychelles pages for more.
Tanzania, like Kenya, is more than just a safari destination. From the Swahili port of Pangani to the famous spice islands of Zanzibar and Pemba, Tanzania offers a number of wonderful beach retreats, all of which combine well with a safari or climbing holiday on the mainland. Read more about beach holidays in Tanzania.