Throughout May we will be publishing a series of blogs on Botswana, one of Africa's greatest yet least visited safari destinations. In this introductory blog we provide an overview of Botswana and its safari parks, focusing on what makes the country unique among African safari destinations: it's low-volume, low-impact approach to tourism and, by extension, its exclusivity.
Botswana has a well-earned reputation as Africa's most exclusive safari destination. This small, sparsely-populated southern African country entertains far fewer tourists each year than the much more famous and iconic safari lands of East Africa, but for those few who do visit, it offers the most intimate of game-viewing experiences. Indeed, for those who want to experience Africa as it was in the days of the early explorers—wild, untamed, and untrammelled—Botswana is the safari destination of choice.
Botswana's exclusivity is not an accident; it is the product of efforts taken by the wildlife authorities in Botswana over the last 50 years to preserve the country's vast wilderness reserves by limiting the number of tourists to them – a low-volume, low-impact approach to tourism for which Botswana is famous. This conservation-first attitude gives safaris in Botswana a different character to safaris in the more crowded reserves of South Africa, Tanzania and Kenya. For one thing, the safari lodges in Botswana tend to be smaller, more widely dispersed, and often more modest than those of its bigger neighbours. The camps, with few exceptions, are remote and unfenced, and hence more closely integrated into their natural environment, allowing for a personal, intimate safari experience of a kind not found elsewhere.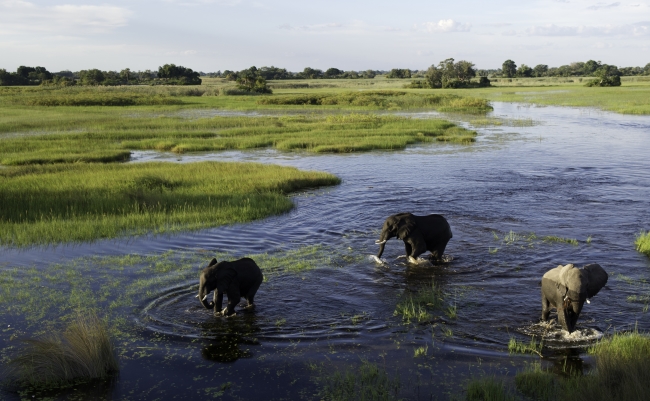 Naturally—sadly!—this experience comes at a price, and Botswana has a reputation not just as Africa's most exclusive safari destination but also as one of its most expensive (though it doesn't have to be that expensive – on this point, look out for our upcoming blog on affordable ways to visit Botswana!) Certainly, conventional comforts don't come as cheaply in the Okavango as they do in the Kruger, and there are few bargain safari packages in Chobe to compare with those offered in Kenya or Tanzania. But then, this is no bad thing, as anyone who has ever been disturbed by a bus full of 30 camera-happy overlanders while trying to lose themselves in the Masai Mara will testify! Gameviewing in Botswana, particularly if you are staying in a private concession, is rarely disturbed.
So what are the defining experiences of a safari to Botswana? We are all familiar with the highlights of East and South Africa—of the Great Migration in the Mara and Serengeti, of rhino tracking in the Kruger, and of the spectacular descent into the Ngorongoro Crater—but many of Botswana's natural wonders remain much less well known. That should change.
In Botswana, you can quietly drift through the flooded lagoons and papyrus swamps of the Okavango Delta in a dugout canoe, searching for game among the tall reeds and river grasses, and maybe even come eye to eye with a hippo; you can tail wild dog across the vast grasslands of Chobe and Linyanti in an open 4×4 (and still struggle to keep up!); traverse the otherworldly Makgadikgadi salt pans, the remains of a prehistoric lake of staggering size, by quad bike; or experience the majesty of the Kalahari's short and poignant green season, when, for just two months, this normally arid land comes to life with greenery and vast quantities of migrating game.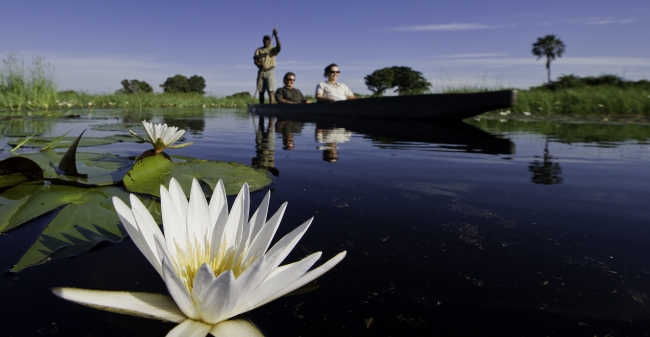 These and other wildlife attractions will form the highlights of any good safari to Botswana. Of course, much of the country's appeal lies more simply in its atmosphere, its 'pristineness' and, yes, its exclusivity. As much as anything else, a Botswana safari is about the thrill of isolation, of knowing, as you sit quietly in the comfort of your camp watching life go by in the waters of the Okavango, or as you wake to see the sun rising over a Kalahari Desert teeming with life after the rains, that you are one among only a very small number of people present for miles. And it's about the little qualities and luxuries that Botswana's marvelous camps and lodges are so adept at providing, even in the most unlikely of circumstances: star beds in the Kalahari, cocktail sundowners on the lagoons of the Okavango, and gourmet meals, whipped up seemingly out of nowhere and served to you in that most intimate of settings, the wild, African bush. It is these aspects of Botswana, those that make it unique, that we'll be focusing on in this series.
Look out for our upcoming blogs, in which we'll be looking at Botswana's greatest safari parks, camps and wildlife attractions, as well as considering the history (and future) of wildlife conservation in the country. To see everything we've written about Botswana, you can view all our posts with the tag 'Botswana'.