In the final entry to her Ethiopian diary, Rosie Sells explores Bahir Dar, Lake Tana, and the Blue Nile Gorge.
26th April, Friday: Gondar to Bahir Dar, Lake Tana
As if responding to our complaints the previous morning, the mid-night chorus of voices struck up again, but this time quite literally at midnight. Apparently the Easter week celebrations are stretched out to also include a repeat of Good Friday a week later. We found out later that in  recent years the Orthodox Christian chanting has increased enormously in competition with the Muslims, especially in Gondar.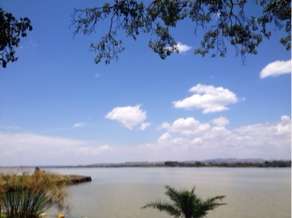 We drove to Bahir Dar that morning, arriving for lunch on the shore of Lake Tana with a beautiful view across the water. Lake Tana is the source of the Blue Nile and the largest lake in Ethiopia. It is approximately 84 kilometres long and 66 kilometres wide and home to a number of islands, the number being dependent on the level of the lake at the time. Depending on who you ask, there are about 37 islands, on half of which there can be found secluded monasteries.
Our afternoon excursion took us on a boat trip to one of the islands located in the centre of the lake to see the 14th century, circular monastery Debre Maryam. The stiff breeze was a welcome break from the heat of the day, and a fantastic solution to the mosquitoes which filled the air. After an hour on the boat, accompanied by pelicans and African terns, we reached the island.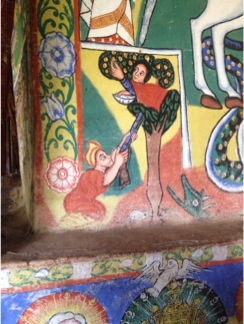 A short walk through the trees took us to the monastery. On the outskirts of the enclosure was an archaic stone bell hung between two wooden posts. Without having been hollowed out, this astonishing feature makes an unexpectedly resonant sound when knocked with another, smaller rock. The monastery itself was round, with a wooden outer corridor around it. Inside are the most beautiful, albeit restored, 14th century murals.
As we circled the monastery, admiring the artwork, we stumbled across a somewhat unusual interpretation of the story of Adam and Eve which gave away the date of reconstruction. In the bottom left hand corner of a set of illustrations was a painting of Eve atop a tree picking an apple to fill her basket. Kneeling on the ground below was Adam, in a less traditional stance, holding a large gun which spanned the entire distance to the abdomen of Eve!
27th April, Saturday: return to Addis Ababa
Not quite according to plan, our morning flight to Addis was taken over by government officials, and the next one was not until the evening. This left us slightly at a loss as to how we were going to return to Addis, especially considering that we were due to meet the patriarch for tea and dine with the British ambassador and another official who was actually onboard our intended flight.
We had learnt over the past week that this sort of unannounced flight re-arrangement was very normal in Ethiopia. For previous internal flights we had arrived up to two hours before necessary just in case our flight was rearranged to depart earlier than planned. However, this government intervention meant that we had no choice but to leave Bahir Dar at 6.00am that morning for what became a twelve hour bus journey to Addis.
Although our journey was undertaken in somewhat unfortunate circumstances, and we couldn't help but be disgruntled at the position we were forced into, the journey was a fantastic opportunity to watch daily Ethiopian life go by and to gaze at even more mesmerising landscapes.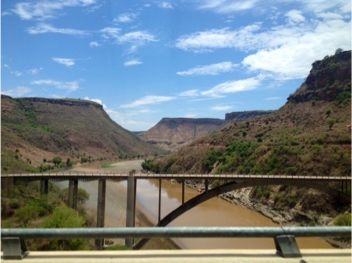 Halfway through the drive we reached the Blue Nile gorge. From the top of one side we could see, but couldn't believe, the route we were about to follow. Winding down the gorge, around tight corners over steep cliff edges, we made our way down to the Blue Nile. We crossed the newer bridge which ran parallel to the older counterpart with stunning views through the gorge. The ascent on the other side was just as breathtaking, and equally terrifying. We all felt very grateful to our drivers who were absolutely phenomenal and drove incredibly carefully for the entire twelve hours.
At the top we were received by our guide Zab's team from Addis who had driven to meet us with sustenance. They escorted us back to the capital where we were still engaged to meet the patriarch who had insisted on delaying our meeting and making sure we were all there. We were also able to have our dinner guests as planned where the British ambassador informed us that we had just undertaken the most treacherous route in the country!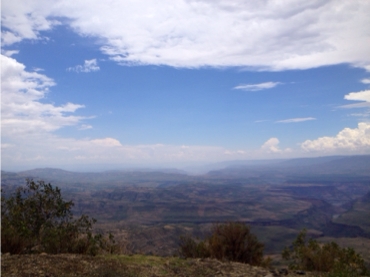 28th April, Monday: return to London
As I write I am just about reaching cloud height on the flight home and would just like to add some concluding words. It has been universally agreed amongst the group that this has been an incredibly informative, eventful, and fascinating excursion to what remains a relatively unknown and untouched tourist destination. We have seen sights which easily rival many more well-trodden routes of history in terms of academic interest and beauty, and everywhere we have gone we have been met with kindness. Although we may feel as though we have become familiar with this country, in reality we have barely scratched the surface, I look forward to returning before long.
Finally, I have to mention our magician tour guide Zab and his tireless team of drivers and helpers who went to extreme efforts to ensure our comfort and safety at all times. The word count for these blogs would be sky high if I documented every minute of faultless driving, including the incredibly efficient tyre changes, let alone listed all of Zab's 'man of the hour' moments and all the wealth of knowledge which he shared with us. Thank you to everyone.