In the latest entry to her Ethiopian diary, Rosie Sells visits Gondar, the historic capital of Ethiopia, and the Simien Mountains, one of Africa's most beautiful (and endangered) wilderness parks. To read Rosie's earlier diary entries, click here.
24th April, Wednesday: Lalibela to Gondar
As a city, Gondar came as quite a change from the ancient towns of Axum and Lalibela. It was founded in 1635 by Emperor Fasilidas and served as the imperial capital for 250 years in a strategic hilltop position in the southern foothills of the Simien mountains. It now functions largely as a university city and there are remnants of Italy's military occupation.
Taking a breather from the religious sights, the afternoon of our arrival in Gondar was spent wandering around the fantastic complex of castles that belonged to Emperor Fasilidas and his successors. Of Portuguese design and built by Indian slaves, Fasilidas's original castle dating back to about 1640, was the most impressive. The Emperor's shower was something of a wonder too, made up of a series of well-positioned drains which channeled the rain water to come cascading down into a vast stone walled chamber.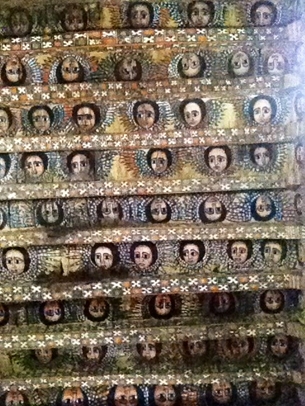 A couple of castles out the collection had been occupied by the Italians during the Second World War, become subject to British bombardment and had been reduced to mere shells. Our guide remarked that the Ethiopians didn't much like spaghetti anyway. Emperor Iyasu's vast sauna remained intact however, as did the lion cages.
A short journey took us to Emperor Fasilidas's Pool. The grand, sunken pool is believed to have always been used largely for ceremonial purposes, and remains empty most of the year. In the centre is a two-storey building, a second home to Fasilidas, which can be reached via a small bridge. And in case we were having withdrawal symptoms, we ended the day with a visit to see the stunning interior paintings in Debre Birban Selassie. Even though the paintings were in the Coptic style we had become accustomed to, these depictions still managed to amaze us. The ceiling was adorned with the faces of angels, while the walls told Old and New Testament stories in individually illustrated scenes.
25th April, Thursday: The Simien Mountains
In order to reach the mountains at a suitable hour after our three hour bus ride there, and to get the best view, the plan was to wake up for breakfast at 5.30am. Such was the intense religious fervour of Gondar that we were all woken at 3.00am by a cacophony of early morning chanting. Having had limited sleep, the long, lethargic bus journey was welcomed. Although most of our faculties were shut down, sleep was made virtually impossible by the landscape which continued to expand and get ever more verdant as we ascended into the highlands and kept our eyes wide open.
Our other senses were reawakened when four scouts climbed into each of our buses carrying Kalashnikovs. These weapons, as ancient as the stelae in Axum, were apparently for our protection as we entered the Simien Mountains National Park. After driving through the park for another hour or so, we made our base at Simien Lodge and began our gentle mountain walk. As we went we were shown and told about the various remedial plants and their properties, including a rather nasty Hyena's Garlic. Named as such due to its wild and dangerous nature, the locals scatter this plant around their homes to use as rat poison.
The Simien Mountains are known as the roof of Africa, because although it only holds the fourth highest peak in Africa, it has roughly 17 peaks over 4,000m. This awe inspiring, vast expanse of unusually shaped mountains growing blue-grey in the distance proved to be impossible to adequately capture on camera. Traveller Rosita Forbes wrote: 'A thousand years ago, when the old gods reigned in Ethiopia, they must have played chess with these stupendous crags'. We paused at a viewpoint to be offered coffee, tea and biscuits before returning to the lodge for lunch, fortuitously passing a herd of at least 100 Gelada monkeys on the way.
That evening we went out for a traditional, and delicious, Ethiopian meal of an assortment of flavourful lentil dishes and meat stews. This was followed by an energetic performance of music and dance, a single-stringed instrument, drums and ululations accompanied the movements which we were encouraged to join in with and imitate to our best abilities!