Rosie Sells' Ethiopia diary continues with her visit to Lalibela. To read Rosie's earlier diary entries, click here.
22nd April, Tuesday: Fly Axum to Lalibela
According to legend, when King Lalibela was just a boy he was attacked by a swarm of bees but miraculously escaped without a single sting. Thus, he earned the name Lalibela which translates as 'honey eater'. King Lalibela reigned in the 11th century, and it was under his rule that the 11 unique monolithic churches were constructed. Hewn directly out of the rock in the ground, these perplexing creations are believed to have been the result of a dream. Lalibela dreamt that he must create a symbolic Jerusalem for pilgrims to visit and worship, beneath the ground. Everything in the area is symbolic, including a small stream representing the river Jordan, and collectively it has been nominated the unofficial eighth wonder of the world.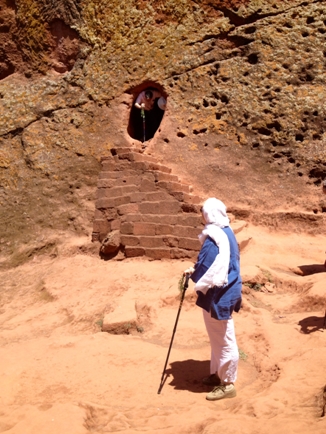 After arriving at Tukul Village Hotel for lunch we set off to visit the first of the two clusters of churches. Consisting of entirely individual churches, all scraped out from the rock with their own size, shape and setting, we were at a complete loss as to quite how each construction was planned and carried out. A few too many chisel movements in the wrong direction would have changed the entire design, surely!? To add to our incredulity, there has been no evidence of the tools which were used, or where the resulting waste rock was disposed of. The natural walls of untouched rock which surrounded the churches themselves had been scraped out in small areas to create holes which people sit in during the most important services of the year. Having been worn away year upon year, the smoothness of the rock in these holes as well as the pathways was astonishing.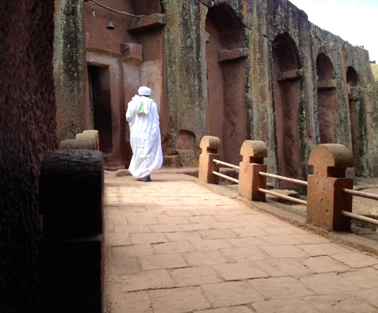 Each church, unique in design, also held its own cross which was presented to us by a priest who emerged from the holy of holies. With every presentation, we were also welcomed to receive a blessing. Although there was a dearth of tourists considering the history and significance of this eighth wonder, it became evident that having to repeatedly play their part for every group of visitors was taking its toll on the priests. Slightly vacant stares and dejected looks could be glimpsed coming from them as each group turned their backs and left the church.
23rd April, Wednesday (St. George's day): Lalibela
On this morning we visited the second cluster of King Lalibela's monolithic churches. At one particular church the priests had taken to wearing sunglasses due to the effect of the flashing cameras. We were told that a priest had actually lost his eyesight as a direct result. There was an abundance of narrow pathways and long, dark tunnels between the churches of this cluster which added to the sense of discovery and trepidation. It also meant that every time we reached a clearing with a church the impact was doubled as the church took us by surprise and beckoned us through its mysterious entrance.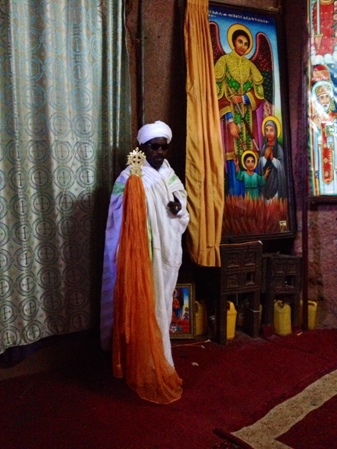 Very appropriately, we visited Bet Giyorgis (house of George) on St. George's day. The most majestic of all the monolithic churches Lalibela has to offer, Bet Giyorgis occupies an isolated position with another breathtaking view laid out before it. Despite this great monument, we were somewhat distracted by the funeral procession which stretched out before us on the opposite hillside. At 1pm that afternoon a four-year-old child had been in a car accident, and was being buried not four hours later. The cortège assembled on the road as the grave itself was being dug below, once ready, they snaked down the hillside to bury the body which they had carried with them on a stretcher. Idir, a form of funeral insurance club which helps to make decisions and pay the costs, meant that the child could be honoured with a ceremony consisting of over 100 people.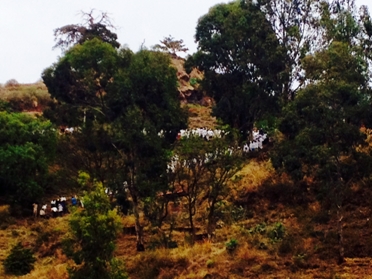 But back to the church: formed in the shape of a cross, the roof doubles up as an effective drainage system and the grooves which mark the cross carry the water to the edges. We descended down another well worn path and as we reached the bottom Bet Giyorgis loomed over us at an impressive 15m.
That evening we sampled another delicious meal at the Tukul Village Hotel which also boasts Bill Clinton, Angela Merkel, and just two weeks ago, George Bush among its previous guests. After gentle persuasion we also got our fantastic guide Zab to tell us all about his experiences growing up in Ethiopia during the communist regime. Zab, the fountain of all knowledge on this trip, patiently answered all our questions, and has done all week much to our appreciation.