In November 2016, six special needs students travelled to Oman on a life-changing expedition organised by Gane and Marshall. Here, Rich Berry from Sky College, one of the two schools involved, recounts the experience:
As part of our aspiration to provide life changing experiences we embarked on an overseas visit to the Middle East. Staff and a group of four students travelled four thousand miles to Oman where they trekked through the mountains and deserts whilst carrying out roles to develop both personal skills as well as team skills. The senior leadership team had difficult decisions to make as over a dozen students showed an interest in the challenge, but only four places were available. Several students from year nine to eleven completed small challenges along the way as part of the selection process.
We walked through Dartmoor with each student focusing on a personal set of targets which were significantly challenging. These included not  smoking, not swearing, keeping within specified  boundaries and accepting advice and acting upon it for the benefit of the individual or the group. Then a long distance bike ride on the Devon coast focusing on working closely with one other student. After these activities we were able to see who was more likely to cope with the greatest challenge in Oman. Demonstrating leadership, self-control, respect for rules and the environment. A number of students stood out for making the greatest changes to their attitude and behaviour. Four students were then selected taking into consideration their ability to manage themselves and remain safe during challenging situations.
We took those four students to the Brecon Beacons in South Wales where the level of challenge was once again raised. They were led by an instructor through Porth Yr Ogof, an exciting underground cave system where they had to overcome an abseil into the cave, raging currents, travelling in complete blackness through the tightest of squeezes. They explored the unique cave environment to discover stalactites and stalagmites as well as frogs, spiders and fungi. The following day the students were up at 6am, setting off soon after to complete the Pen Y Fan horseshoe walk. The rain mostly held off, but a strong, gusting wind tested them on the various ridges of this incredible mountain route. The students stepped up to all of these new obstacles with real gusto, demonstrating they were ready for Oman.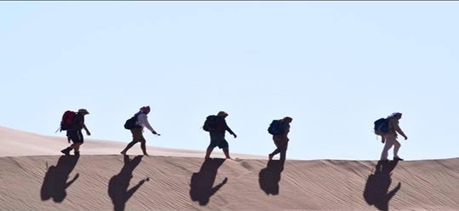 Almost twenty four hours of travel from Taunton to our first campsite in the mountains of Jebel Akhdar, three hours west of Muscat, we arrived to high temperatures in the day and near freezing conditions at night. The students were expected to step up immediately to responsibilities, setting up camp, a dozen tents, kitchen and cooking for the group. Each day the expedition cycle of breaking camp, breakfast, navigating and travel by foot, setting camp and preparing the evening meal was completed. Some days were more successful than others, but we never went hungry or got lost. The most stressful situation as for most teenage boys on most of the nights was washing up!
We were invited to coffee with a local villager, where we learned about their culture and traditions that are influenced by an interesting history of the Omani people returning from Egypt, India and Africa to a country with new leadership and promise for development and change.
We stepped back in time to share an evening with Bedouin tribes people, nomads of the desert that have lived, worked and travelled the deserts of Oman and the peninsula for centuries. They provided a wonderful selection of meals and allowed us to ask many questions about their way of life. It was a unique and unforgettable experience, where all of the students represented our school and themselves respectfully with pride.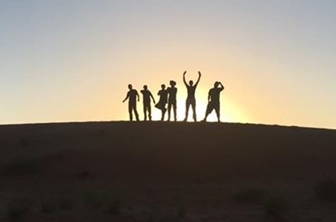 After day four we travelled three hours to the edge of the Wahiba Sands, an incredible desert consisting of hundreds of dunes running in parallel across an area of thousands of square kilometres. We were privileged to meet Amer Wahiba, a tribesman who accompanied British explorer Mark Evans in crossing the Empty Quarter (a huge expanse of desert). Amer guided us on camels as well as rescuing our cars when they were stranded in the dune sand; not many men can boast they can drive several camels at once and drive a 4×4 better than Jeremy Clarkson!
The visit ended with a gloriously hot day in blue pool wadi where we swam with fish that nibbled away at our toes, which was a surprise as we hadn't showered for six days!