I hold Zimbabwe completely responsible for my enduring addiction to Africa, for it was during a visit to this most unique of countries over 25 years ago that my passion for the continent was first ignited. I fell completely in love with its outstanding wildlife, open spaces and welcoming people.
Since that initial visit to Zimbabwe, I have returned to Africa frequently, but it has been 15 years since my last visit to the country that sparked me love for the continent. So when I was invited to return to Zimbabwe last year, I jumped at the chance to witness first-hand how the country was faring following two difficult decades.
Now, unlike then, Zimbabwe creates a good first impression. The first thing you notice when flying into Victoria Falls is the brand new airport, recently completed and a welcome sign of new investment in the country. Direct international flights from Europe and the Middle East will soon be arriving.
My first night was spent in Victoria Falls, at a wonderful lodge with breath-taking views of the Batoka Gorge. The spacious, cool rooms were extremely welcoming after a long flight! Over a sundowner, I watched as a pair of resident black eagles soared over the gorge's thermals – if you don't wish to be in the centre of the busy Victoria Falls town, 30mins away, this is a wonderfully relaxing place to stay, and the perfect introduction to Zimbabwe.
A visit to the mighty Victoria Falls followed – a must for all visitors to the country! The views from the Zimbabwe side are widely considered superior to the Zambia side, as far more of the actual Falls are visible. You can take a guide, though it's easy to follow the well-marked paths yourself. The months of September/October are good for photography, as the spray is not as excessive.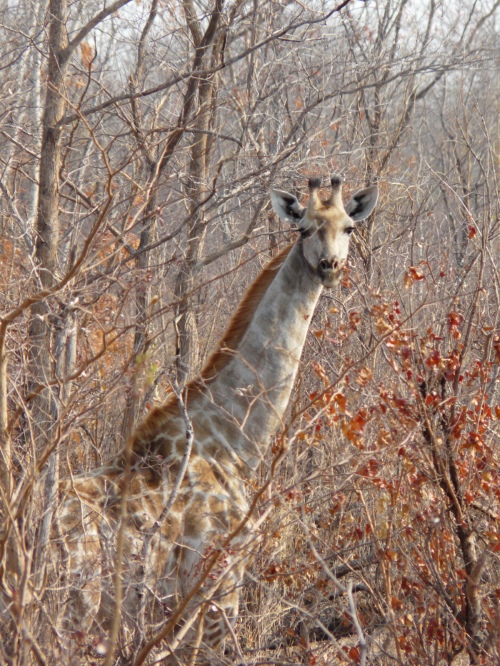 From Victoria Falls, my itinerary took me to Hwange National Park, where I was treated to some fantastic wildlife sightings from the moment I arrived! As we approached our first lodge there was a huge herd of elephant that must have numbered 400 – 500… quite an incredible sight! Over the following days, I saw a cheetah mum who had successfully reared 5 cubs, a pack of wild dogs, mating lions, various antelope and more elephants than I have seen in a very long time.
One day I was able to join the 'pump run', which is a fantastic initiative. As Hwange does not have any natural water sources, the wildlife relies heavily on borehole water, especially at this dry time of the year. So I accompanied the guide visiting each borehole, delivering supplies to the caretaker and diesel to ensure the pumps could continue to run. I saw an amazing amount of wildlife, especially around the boreholes where there were so many elephants of all sizes; to have the opportunity to observe the interaction between groups was very special.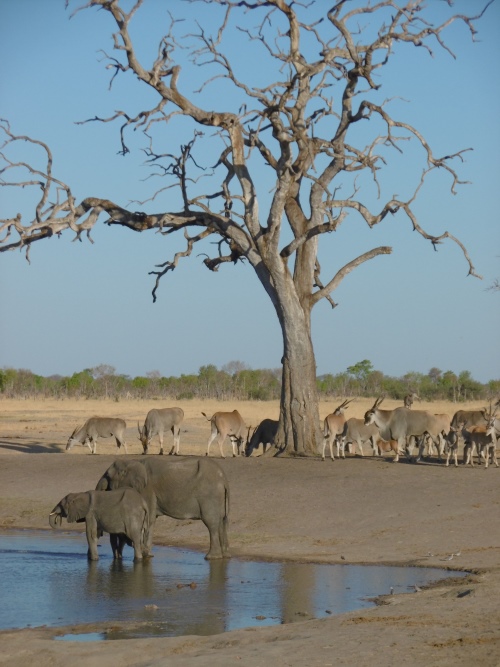 My journey took me to the north of Hwange, where I stayed in an amazing lodge, Nehimba. If you love elephants then you simply have to stay here! Arriving late in the afternoon, elephants were already beginning to gather at the waterhole and they continued to arrive all evening and treated guests to the most wonderful and entertaining show. Dining on the deck we were literally metres from these gentle giants who jostled for space around the swimming pool which was drained in a couple of hours! It was an amazing and unforgettable experience.
There is no escaping the fact that Zimbabwe has had its problems but I'm delighted to report that I found everything just as I remembered, maybe a couple of new hotels in the Falls area but Hwange continues to be an outstanding wildlife destination. With fewer visitor numbers and much lower park fees, I would strongly encourage you to visit this exceptional park soon.