The third in our blog series Remote Trekking Holidays features one of the most beautiful climbs in East Africa – Africa's second highest peak, the mighty Mt Kenya.
Mt Kenya
Location: Central Kenya
Visitor numbers: approx 15,000 a year
Challenge rating: Medium
Africa's second peak
Africa's second highest peak, Mt Kenya has often seemed to stand in the shadows of its taller neighbour, Kilimanjaro. Those who have made the trek to its summit, however, know that it is one of the most beautiful climbs in East Africa.
For richness of flora and fauna, and for beautiful scenery, Mt Kenya is the equal of any peak in Africa. The mountain encompasses a variety of distinct ecological zones, ranging from savannah grassland, through tropical rainforest, bamboo and heather zones, to the snow and ice summit. The lower slopes of Mt Kenya  are covered in dense rainforest home to elephant, buffalo and antelope, while the upper slopes are host to a climate and terrain that is almost alpine in character, a land of barren heath and icy valleys, not unlike the dramatic landscapes of the Rwenzori mountains. And at its peaks—there are three of them— Mt Kenya equatorial glaciers are a marvel (albeit a rapidly diminishing one).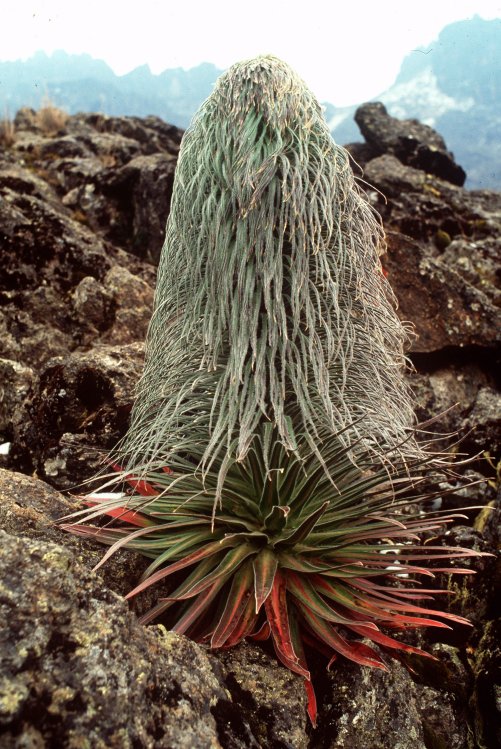 Not nearly as many people make the ascent to the summit of Mt Kenya as climb to the top of Kilimanjaro, despite Mt Kenya being in many ways the more approachable of the two. This is in many ways a good thing. For those who want to escape the crowds, Mt Kenya can be a great alternative to Kilimanjaro, with the quietest routes on Mt Kenya, such as the Burguret Wilderness route, attracting a fraction of the footfall of Kilimanjaro's busiest routes. For others, Mt Kenya is a precursor to Kilimanjaro, providing great acclimatisation before an attempt on Africa's highest summit.
Mt Kenya has three peaks – Batian (5199m), Nelion (5198m) and Lenana (4985m) – and though the highest of these are technical climbs, the route to 'Trekker's Point' at Lenana is a relatively uncomplicated trek, requiring only a good pair of walking boots and a bit of determination! Those wishing to climb to the very highest peak of Mt Kenya, Batian, will need a little bit more in the way of technical climbing ability, as the approach involves a series of sinister pitches and gullies.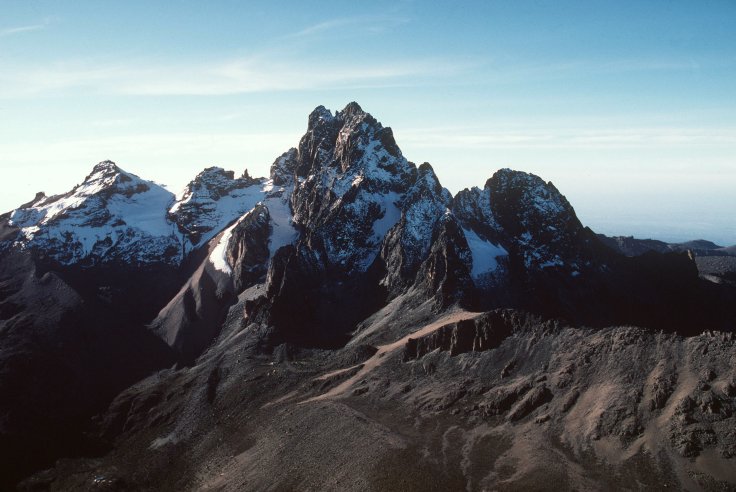 Altitude is not as much of a risk on Mt Kenya  as on Kilimanjaro, as the highest point most trekkers will reach is 1,000m below the summit of Africa's highest mountain. Nevertheless, altitude is still a risk above 3,000m, particularly as Mt Kenya's relatively easy terrain can lend itself to a rapid ascent, with the result that many first-time climbers make the mistake of trying to reach the summit much too quickly. With the right route and ascent profile, however, Mt Kenya can be a very approachable climb—though by no means a walk in the park!
Mt Kenya routes and approaches
A safe, enjoyable climb to the summit of Mt Kenya 's trekking summit, Lenana, should ideally take 6-7 days. Shorter 5 day climbs are possible, but put you at greater risk of altitude sickness.
Our preferred Mt Kenya climb is the Burguret Wilderness route, one of the oldest routes up the mountain. Very much off-the-beaten-path, this camping-only route sees fewer climbers than the Sirimon and Chogoria routes, and takes in some of the mountain's most beautiful scenery. Another very popular programmes offering good acclimatisation and a more varied itinerary, is the 7 days Combo beginning with a safari in Hell's Gate National Park, before climbing Mt. Longonot, and finally tackling Mt. Kenya by the Sirimon-Chogoria Crossover.
As a mountain trek (assuming you are heading to the trekkers' peak Point Lenana) Mt Kenya also offers a great combination with Mt Kilimanjaro. Climb Mt Kenya first by one of our superb six days routes and then – well acclimatised to the altitude – head to nearby Tanzania and try one of our scheduled low cost Rongai6 climbs to the roof of Africa.
East Africa walking holidays with G&M
Gane and Marshall started out in 1991 as an East African trekking specialist, offering walking holidays in Tanzania, Kenya, Ethiopia and Uganda. We are one of the only UK tour operators to offer walking holidays to remote African regions such as Tigray in Ethiopia and the Rwenzori Mountains in Uganda/Congo, and to offer climbs of Africa's three highest peaks—Mt Stanley, Mt Kenya and Mt Kilimanjaro. For more, see our trekking website.
Other blogs in this series: