Your Everest Base Camp Kit List is a vital part of your pre-trek preparation
Download our Everest Base Camp Kit List.
Everest Base Camp is located above 5000ms, Kala Pathar is at 5550 ms., so kit and clothing must be able to cope with extremes of temperature, rain and snow, and burning sun! Our recent expedition (8th to 23rd October 2013) to Everest Base Camp for the Extreme Classroom series certainly put our kit to the test. We were hit by heavy rain and snowfall on the ascent which was said to be the worst October weather experienced for over twenty years! Hence the attached Everest Base Camp Kit List should be read with the following provisos:
1) Many Gortex boots failed in the very wet conditions we experienced on the approach and then again in the unseasonal deep snow.
There were apparently two reasons for this: the Gortex was not treated and had lost its waterproof capability; rain and snow seeped in around the ankles of those not wearing gaiters. So it is best to buy either leather boots (yes they are heavier) or take good 4 seasons Gortex boots to Everest Base Camp; and always carry gaiters in your day sack ready to put on if the conditions are wet or snowing.
2) Thermal layers are essential especially for the cold nights
At Lobuche (just under 5000ms.) we measured minus 8 degrees Celsius in the tent, and water froze in my plastic bottle during the night. Evenings and early mornings also get very cold as you climb higher. A good fleece is always useful and nowadays many trekkers replace this with a light weight down jacket. I trialled an excellent PHD down ultra light jacket which weighed only 190 grams! For the really cold temperatures a full weight down jacket is required too. At night I put my full down jacket into a pillow case to make a nice comfy pillow. 
3) UV rays are harsh and there is relatively little filtration as you climb higher.
This means that sun block lotion and sun protecting lip salves must be high factor. I recommend  factor 50. The heavy snow fall that held us up at Dingboche for 3 days lay very thick on the ground during our subsequent push up to Kala Pathar. This white field of snow reflected harsh UV rays onto every bit of exposed skin causing some of our group to get sun burned badly. The main areas affected were the mouth and the face. Although I had 50 factor lotion and 50 factor lip salve in my kit, I made the mistake of initially using standard lip salve and my mouth was nicely "cooked" by the sun, meaning that I has discomfort when eating for several days. Still all this was worthwhile when we saw our group standing proud and happy at the Kala Pathar viewpoint with Everest in the background! Taking some time to get your Everest Base Camp Kit List right will ensure that you have an enjoyable trek too.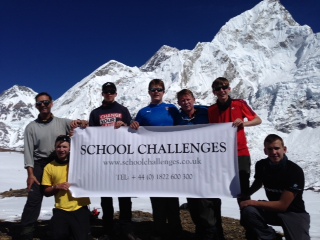 Read more about Trekking in Nepal.
Read our Everest Base Camp Itinerary.
Do you have any tips for an Everest Base Camp Kit List? We'd love to hear them, please leave your comments.